Sure, they call it the "drive-in," but they don't mean it literally.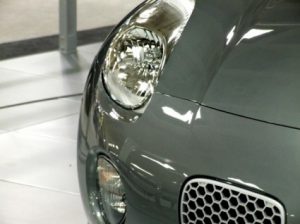 Police in Weymouth, Massachusetts say that's what happened recently when a drunk driver crashed into a drive-in restaurant and then took off.
The collision occurred around 2:45 a.m. at Jenna's Drive-In. The fire department first received word of a problem when a resident awoke to see a vehicle on fire in his front lawn. The resident rushed outside and spotted the driver, looking dazed still in the driver's seat. The resident shouted to ask if he was Ok. The driver then reportedly "just took off" on foot. The resident said he tried to stop him, but was unsuccessful. Authorities found the 29-year-old walking along a road a short distance away.
He was charged with DUI (second-time offense), and operating under the influence without a driver's license.
It's estimated the collision caused some $2,000 in property damage, though thankfully, no one was injured.
The incident brings us to the issue of bollards in front of businesses. Vehicle in building crashes happen most often with drivers who are drunk or, in some cases, suffering a medical emergency. Our Boston drunk driving accident lawyers know that because these accidents occur with a fair amount of frequency, storefront businesses need to anticipate the possibility and take steps to protect patrons. Victims injured when a car crashes into a building may pursue legal action not just against the driver, but also potentially against the property owner if there is evidence of failure to install bollards or other protective barriers where such a collision is reasonably foreseeable.
A recent report by CBS Boston focused on the fact there is no law in Massachusetts that requires bollards at certain locations. A bill was introduced by state legislators earlier this year that would have required installation of bollards in new construction projects, but that measure stalled.
The Storefront Safety Council reports crashes into places of business occur 60 times every single day across the country. In fact, vehicle-in-building crashes kill some 500 people every single year and injure thousands more.
To put this into perspective, last year in the U.S., there were no people killed by earthquakes, 55 by tornadoes and 23 by lightning strikes. What that means is you are six times more likely to be killed in a vehicle-in-building crash than by any of those three forces of nature – combined.
A recent study by Ameriprise of where these crashes are most likely to occur broke it down like this:
Retail store – 23 percent
Commercial building – 23 percent
Restaurant – 19 percent
Other – 19 percent
Convenience store – 9 percent
Office – 7 percent
Just this year in the Boston-area, there was a car that rammed into a Lynn Dunkin' Donuts and a car that crashed into a Norwood Starbucks. In West Newton, a vehicle crashed into a Sweet Tomatoes restaurant, dodging a row of bollards that lined the sidewalk nearby.
The annual cost of these accidents – just as it relates to personal injury and property damage claims – is $200 million.
In looking at what causes these crashes, Ameriprise analysis revealed the breakdown was:
Pedal error (foot slip or pressing the wrong pedal) – 36 percent
Drunk driving – 20 percent
Operator error – 17 percent
Traffic accident – 12 percent
Medial – 8 percent
"Ram Raid" – 7 percent
Pedal misapplication errors were far more likely to occur with drivers under 20 and those over the age of 70 (with especially high figures with those 85 and over).
These type of crashes are actually expected to increase because drivers over the age of 85 are expected to more than double between 2014 and 2025.
In order to prevent casualties of these accidents, businesses should discourage nose-in parking, design lots so vehicles can't approach store entrances head-on and install barriers near parking spaces, wheelchair ramps and exposed pedestrian areas.
If you or someone you love has been injured a Boston drunk driving accident, call for a free and confidential appointment at (617) 777-7777.
Additional Resources:
Police: Drunk Man Crashes Into Drive-In Restaurant in Weymouth, Massachusetts; Car Bursts Into Flames, June 16, 2016, By Caroline Connolly, NBCUniversal Media
More Blog Entries:
Weymouth Drunk Driving Accident Results in Serious Personal Injury, June 17, 2016, Boston Drunk Driving Accident Lawyer Blog