A 37-year-old Massachusetts woman, is currently facing charges of hitting and killing a woman as she was driving under the influence of alcohol, according to The Boston Globe. Her drunk driving accident in Massachusetts landed her in some big legal trouble. She failed to realize the consequences before getting behind the wheel after consuming far too much alcohol — more than twice the legal limit, to be exact.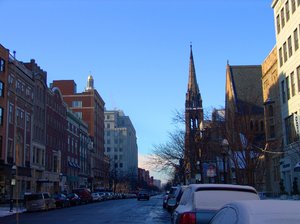 "I killed somebody…This is going to change my whole life," she told the newspaper.
Our Boston drunk driving car accident lawyers understand that the woman pleaded guilty to one count of motor-vehicle homicide while drunk. The woman was placed in jail with a $50,000 cash bail during that arraignment. According to officers, her blood alcohol concentration (BAC) was tested twice immediately after the accident. Both times, the breathalyzer returned a 0.18 reading, more than twice the legal limit.
The driver told the paper she doesn't care what happens with the outcome of the sentencing, as long as she doesn't lose her home in the process. The husband of the woman killed says the defendant didn't show any remorse to what she had done.
It all happened when the victim was standing in a parking lot loading doughnuts in her vehicle for her church's early morning services. She was struck from behind as she loaded the goods into her car.
The woman's husband was standing on the other side of the car when the accident happened. He says that the driver was speeding when she barreled toward their vehicle. He yelled to his wife, but there wasn't enough time. His wife was pinned between the two vehicles and died in the arms of her husband as she told him she loved him.
The woman who was killed in the accident had cared for more than 200 foster children. She gathered Christmas gifts for young ones in her community and provided hot meals for the the less fortunate around Thanksgiving time. She and her husband were active parishioners at Sacred Hearts Church.
Reports indicate the defendant sobbed during her arraignment, which ended with her being escorted out in handcuffs. The woman had no prior criminal record and had been out on bail from the initial arrest made by officers in Haverhill after the early morning accident.
Since 2006, she has only been issued one previous traffic citation for speeding and had two surchargeable accidents, according to officials. She was also reportedly undergoing treatment for depression, which included prescription drugs as part of the treatment.
If she is bailed out of jail then she will have to wear a GPS monitoring device and will be tested for alcohol consumption at her home. If she's convicted of the charges, she faces at least a minimum of one year behind bars.

The Massachusetts Drunk Driving Lawyers at Jeffrey Glassman Injury Lawyers represent victims of drunk driving accidents throughout the state. Call for a free and confidential consultation to discuss your rights. (617) 777-7777.

Additional Resources:
'I killed somebody,' defendant told police, by Brian R. Ballou, The Boston Globe
More Blog Entries:

Boston Tops List for Drunkest Cities in U.S.; Drunk Driving Car Accidents in Massachusetts Likely in 2012, Boston Drunk Driving Accident Lawyer Blog, January 1, 2012
Female Arrests for Drunk Driving in Massachusetts, Nation on the Rise, Boston Drunk Driving Accident Lawyer Blog, December 10, 2011