Riding, as a passenger in a car with a drunk driver behind the wheel is very dangerous, yet people do it all the time. According to a recent news article from the Boston Herald, a man from Walpole was involved in a fatal rollover car crash in Hyde Park in which his female passenger was killed.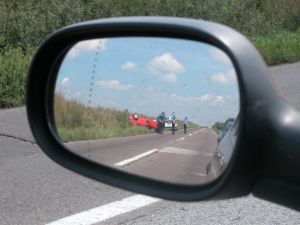 Authorities are reporting driver was operating a 2003 Honda Accord at 2:30 a.m. when he lost control of his vehicle. His car rolled over and came to stop just before a major intersection. The female passenger was pronounced dead at the scene, while driver was taken to Brigham and Women's Hospital in Boston to be treated for injuries before being taken to court for arraignment.
Prosecutors have indicated they intend to charge driver with operating under the influence (OUI), leaving the scene of personal injury (hit-and-run) and homicide while drunk driving. He was also cited with speeding and other traffic offenses.

As our Boston drunk driving injury lawyers know, many injured passengers in car accidents do not understand their rights or what they need to do to attain a fair and appropriate financial recovery. Drivers' insurance companies also know this and will use this fact to get accident victims to sign general liability releases and get far less than they are entitled to after an auto accident. In the case of a fatal collision, insurance companies will try to use similar tactics with respect to families of accident victims.
The reality of the situation is it may be necessary to file a lawsuit against the driver of the car in order to get his or her insurance company to pay for damages. While it may seem like an uncomfortable situation, it is really the driver's insurance company who is defending the lawsuit and controls whether or not there will be a reasonable settlement.
One of the best things you can do if you were injured in a car accident while a passenger is to speak with a car accident attorney in a confidential consultation before speaking with anyone else about the accident.
While it may seem odd not discuss the accident with your friend who was driving, anything you say is discoverable in a deposition and could be possibly be against you in an trial should one be necessary.
It is also important to make sure the police are called and create an accident report. The driver may want to drive away so that he or she doesn't get in trouble, but if you were injured in the accident, it is important to get assessed by first responders and for a vehicle crash report to be written.
Having a police report will increase the likelihood of a quick settlement where the parties do not have to be deposed or sit through trial and testify. A quick settlement is in everyone's best interest, so long as it is a fair amount of money. On the other hand, if a quick settlement cannot be reached, you want an attorney who will fight for your rights to recover compensation for your injuries.

If you have been injured in a Boston drunk driving accident, call for a free and confidential appointment at (617) 777-7777.

Additional Resources:
Walpole man charged in fatal Hyde Park crash, November 15, 2014, Boston Herald
More Blog Entries:

Massachusetts Man Arrested for 11th Drunk Driving Offense, August 12, 2014, Boston Drunk Driving Accident Lawyers Blog