Hit-and-run drunk driving accidents that result in serious injury or death cause victims and family members enormous grief. Not only must aggrieved parties cope with the pain and loss caused by the crash, but then there is the added frustration of elusive justice.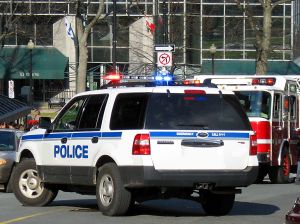 According to a recent news report from WCVB 5 Boston, a pedestrian was struck and killed by a suspected drunk driver in Brockton. The at-fault driver reportedly fled the scene.
Authorities report the fatal accident occurred late at night.
EMS workers rushed the victim to the hospital where she was immediately taken into a surgical intensive care unit and then placed in critical care. Sadly, she soon died from her injuries related to the suspected alcohol-related hit-and-run car accident.
In cases like these, it should be weighed whether at-fault driver's failure to stop and render aid (i.e., call 911) delayed emergency response to a degree it might have cost victim his or her life.

In this case, witnesses were able to get suspect's license plate number, and police arrested the 53-year-old female driver shortly after the accident.
She was charged with drunk driving causing serious personal injury, leaving the scene of an accident involving personal injury and negligent operation of a motor vehicle. It is likely the charges will be amended to include operation under the influence (OUI) homicide, as the victim has died.
Defendant was released after posting bail and was ordered not to drink or possess any alcohol and allow probation officers to inspect her residence.
As our Boston hit-and-run lawyers can explain, drunk driving accidents where the driver also flees the scene often pose additional challenges to victims or their families in the event of a fatality. This is especially true when the driver is never found.
In these situations, your attorney can assist you in obtaining a financial recovery from your own insurance company through a type of coverage known as uninsured motorist (UM) coverage. In the Commonwealth of Massachusetts, UM insurance must be offered up to the policy limits of your liability insurance limits, unless you specifically decline such coverage. Most people have UM coverage, even if they don't know they do. UM coverage applies even when you aren't driving, so long as the injuries stemmed from a motor vehicle accident.
So for example, a pedestrian struck by a hit-and-run driver could collect UM coverage, so long as she or a member of her household carried it.
UM coverage is designed to compensate victims of accidents when the at-fault driver is driving an uninsured motor vehicle. While it is illegal to drive in the Commonwealth of Massachusetts without insurance, many people do. With UM coverage, your insurance company will pay you for any money not recovered from the at-fault driver, up to the limits of your liability insurance.
In the case of a hit-and-run driver that is never located, the driver is treated as uninsured, since you have no way of contacting his or her insurance company.
However, just because the purpose of UM coverage is for your own insurance to compensate you, it doesn't mean they will immediately pay up. It may be necessary for your lawyer to fight for a settlement or even file a personal injury lawsuit to obtain fair compensation.
If you have been injured in a Boston drunk driving accident, call for a free and confidential appointment at (617) 777-7777.
Additional Resources:

Randolph woman struck by car in Brockton dies, October 25, 2014, WCVB Boston
More Blog Entries:
Massachusetts Man Arrested for 11th Drunk Driving Offense, August 12, 2014, Boston Drunk Driving Accident Lawyers Blog