A police officer from the North Anderson, Massachusetts Police Department was arrested following an alleged drunk driving crash, according to a recent news article from NECN.  The alleged drunk driving car accident occurred in Pennsylvania back in September, though word only recently made it the city where he works.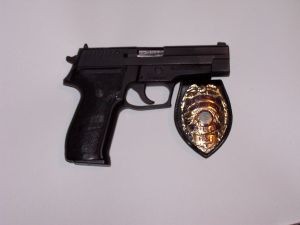 The facts contained in the report of the incident are somewhat muddled, though we do know the officer was arrested and is accused of DUI. He was reportedly accompanied at the time by another detective with the same agency. Both officers were subsequently placed on administrative leave in October, but only one had been arrested.
The incident reportedly occurred in the middle of Pennsylvania near Penn State University, and the officers involved were allegedly in their department's 2008 Dodge Charger Police cruiser. The driving officer is accused of crashing his police cruiser into a flatbed tow truck and then fled the scene on foot.
When local officers arrived at the scene, they searched the heavily damaged police car and found a map of a local motel.  They also reported finding blood on the airbag of the crashed vehicle and damage to the tow truck that had been parked at the time of the alleged drunk driving crash.
When the local police caught up with the suspect and his fellow officer at the hotel in State College, Pennsylvania, the officer allegedly responded by saying, "Oh you found my car."  The suspect then told the officers that he and his fellow officer were in State College for a conference on car accident reconstruction and that they had left the hotel to go to a local strip club.  He then told officers that he was following his GPS and went the wrong way.  He said they were trying to make a U-Turn when the crash occurred.  Arresting officers then asked if he had been drinking, and the defendant allegedly told them that he had one or two beers.
At this point, they asked the Massachusetts officer to take a field sobriety test, but he reportedly refused to take the test. He also said he would not a take breath test, but he agreed to have his blood drawn and his blood alcohol content was allegedly .219 grams of ethanol per hundred milliliters of blood, which is around three time the legal limit.  The driver was then placed under arrest for drunk driving following a crash, and he and the other officers were put on paid administrative leave following the outcome of the case.  However, it is important to note that he is presumed innocent unless and until his is convicted in a court of law by a judge or jury.
As our Boston drunk driving accident lawyers can explain, cases like this, if true, show us how common it is for people to drink and drive without thinking about the dangers of the consequences. However, there are clearly real consequences to a drunk driving accident in terms of serious personal injury or even death, as well as a considerable amount of property damage.
If you are ever the victim of a drunk driving accident, and the at-fault driver is a law enforcement officer or other public official, is important to speak with an experienced attorney as soon as possible.  While the vast majority of police officers are professionals and will do the right thing, it never hurts to have an independent investigation performed.
If you or someone you love has been injured a Boston drunk driving accident, call for a free and confidential appointment at (617) 777-7777.
Additional Resources:
Massachusetts Police Officer Accused in Penn. DUI Crash, December 9, 2016, By Mike Pescaro, NECN
More Blog Entries:
Bruins Star Ray Bourque Arrested for Drunk Driving After Car Accident, July 5, 2016, Boston Drunk Driving Injury Lawyer Blog