A 51-year-old from Rhode Island had seven prior convictions for driving under the influence in that state. As a result, judges there had ordered his driver's license permanently revoked for the rest of his life.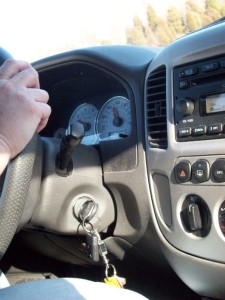 Yet not long after, he obtained a valid driver's license in the Commonwealth of Massachusetts. Although it was later suspended, that still didn't stop him from getting behind the wheel drunk and racking up his eighth DUI arrest, the last one in Northampton, MA.
How could this happen? After all, many states have statutes that allow prior DUI convictions that occur out-of-state to be considered in penalties elsewhere. Massachusetts does too, but here's the trouble: The Commonwealth is one of just five states that does not participate in the Drivers License Compact. 
This is an interstate compact that used by 45 states to exchange information concerning license suspensions and traffic violations of non-residents. The information is then sent to the person's home state.
So let's say for example a college student from New York heads down to Florida for spring break and is arrested and later convicted for DUI. The compact would require Florida to send information of that arrest and conviction to the appropriate agencies in New York. That way, they would be aware that the driver's license is suspended. The idea is that no one should be able to skip out on the penalties simply because they live or moved out-of-state.
The system is not supposed to include non-moving violations (i.e., parking tickets, loud exhaust, tinted windows, etc.). It's intended to be used for things like speeding, license suspension or DUI/OUI.
Massachusetts is one of the few states nationally – and the only state in New England – to refrain from participation in the compact. Our Boston DUI injury lawyers know that hampers our ability to get and exchange information from other states.
In the case of the Florence man arrested for eight DUIs, MassLive reports the 51-year-old's seven prior convictions span from 1983 to 2009. The summer of 1994 was an especially fraught one for the man, as he tallied his fourth and fifth DUI offenses in the span of just two weeks.
Following his most recent arrest, the judge decided to hold him without bail pending trial.
He has pleaded not guilty to charges of:
Operating a motor vehicle under the influence of alcohol (OUI);
Arrest for OUI with four or more prior convictions for the same;
OUI with a suspended license;
Failure to have a valid inspection sticker.
His latest arrest occurred on Bridge Street after an officer ran the license plate on a pickup truck driving near Look Park. The registration on the vehicle (which did not belong to defendant) had been revoked. When the officer initiated a traffic stop, defendant allegedly did not stop right away. Instead, he continued at low speeds for several miles. When he finally did stop, he drove up over the curb.
An officer described the man as slow and lethargic. Suspect allegedly admitted to having "a few beers." During a sobriety test, he was unable to distinguish between his left and right feet and two breathalyzer tests conducted on scene indicated his blood-alcohol concentration level was more than twice the legal limit.
If you or someone you love has been injured a Boston drunk driving accident, call for a free and confidential appointment at (617) 777-7777.
Additional Resources:
Albert M. Tretault jailed after eighth drunk driving arrest in Northampton, lost license in 2009, March 16, 2016, By Rebecca Everett, MassLive.com
More Blog Entries:
Massachusetts DUI Charges for Principal of the Year, April 11, 2016, Boston Drunk Driving Accident Lawyer Blog