One of the most dangerous parts of any police officer or state trooper's job is conducting traffic stops. While there is always the fear someone in suspect's car may be armed and dangerous, the mere act of standing on the side of road is often the most dangerous aspect of a traffic stop.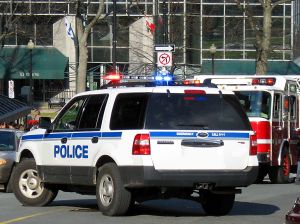 According to a recent news article from My Fox Boston, a Milton police officer was responding to a roadside emergency along with firefighters when any officer's worst fears was almost realized. Alleged drunk driver sped by, hitting a police cruiser, and nearly hitting an officer, one firefighter, and a civilian motorist.
The 19-year-old suspect from Farmington, Massachusetts was driving a 1994 Nissan Sentra when he allegedly reached the temporary roadblock officers had set up to deal with downed power lines and did not slow down. He is said to have blown through the closed road and hit the officer's car. Following the alleged Massachusetts driving accident, officers conducted an investigation and questioned defendant. Authorities suspected driver to be operating a motor vehicle under the influence (OUI) of intoxicating liquor or drugs and placed suspect under arrest for alcohol-related criminal traffic charges, including OUI and reckless driving. Officers than transported suspect to their police station, where he was later released on $5,000 personal recognizance. He is scheduled to be arraigned later this month.

As part of a drunk driving accident investigation in Massachusetts, local police officers or Massachusetts State Police troopers will conduct an investigation according to training methods approved by the United States National Highway Traffic Safety Administration (NHTSA). Among NHTSA's many responsibilities, the agency conducts and compiles extensive research on drunk driving and alcohol-related accidents. NHTSA has taken its findings compiled since the 1970s and used them to develop a training module for all traffic enforcement officers dealing with drunk driving detection and enforcement. This training module has been reduced to a manual and is given to all traffic enforcement personnel during a 40-hour training session.
This training, often called Standardized Field Sobriety Testing (SFST) certification, includes a series of clues to tell if a driver is likely under the influence, as well a great deal of information about how alcohol effects one's ability to safely drive a motor vehicle.
Essentially, the manual tells police officers about signs of drunk driving. These signs of drunk driving are also signs of dangerous driving – dangerous to the driver and those on the roads and sidewalks of the Commonwealth of Massachusetts. Some of these clues of drunk driving include weaving, swerving, failing to signal, and failing to react to changing road conditions and stop in time. As you can easily see, these symptoms of dangerous driving are also symptoms of negligent driving, and your Boston drunk driving car accident lawyer may be able to use a law enforcement officer's vehicle crash report to help prove your civil case.
If you have been injured in a Boston drunk driving accident, call for a free and confidential appointment at (617) 777-7777.

Additional Resources:
Man arrested on drunk driving charges after hitting cruiser , March 19, 2015, My Fox Boston
More Blog Entries:
Boston Drivers Urged to Stay Sober on the Fourth of July, July 3, 2014, Boston Drunk Driving Accident Lawyer Blog