According to a recent news article from CBS Boston Local, a man from Lowell, Massachusetts, just north of Boston, was arrested on his sixth drunk driving charge after allegedly ramming into to two fully marked police cruisers early Friday morning.  The man is 41-years-old.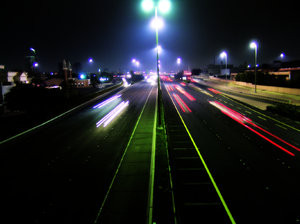 Police say the man was allegedly driving his vehicle in an erratic manner and speeding when they witnessed this and attempted to pull him over.  They use the term attempted because their efforts did not go so well.
Police further allege that the man did not stop when they activated their lights and sirens, so they had not choice but to follow him. Police will not typically go on a high-speed chase, since that could result in injuries to innocent bystanders, but they are allowed to follow a suspect at a reasonable speed.  Police will also radio for other police officers to join them in the pursuit, which is what they did in this case.
As this point, the police had followed the suspect until he had headed down a street that had no outlet.  With nowhere to go in his vehicle, as they had blocked the street behind him, they assumed he would finally stop his car.  However, at this point, police have said he put his car in reverse and stepped on the gas, causing his car to ram the two police cruisers blocking his escape.  He was unable to get away at this point, and they were able to extract him from the vehicle and take him into custody following this Lowell drunk driving accident.
As part of their investigation, they suspected the man was drunk and placed him under arrest for drunk driving in addition to various other charges.  He was charged with drunk driving on a second or subsequent offense and the police filed enhancement papers, as he is record indicated that he allegedly been arrested and convicted of drunk driving on five previous occasions.  He also has problems other than possible felony drunk driving charges, as he is suspected of robbing a corner store in Massachusetts at some point prior to his drunk driving arrest.  They allege that he used the same SUV to crash into the glass door of the store, so he could get in and rob the place.
It is important to understand that even though he has been arrested for drunk driving and had been allegedly convicted on multiple occasions for drunk driving in the past, he is presumed innocent on these new charges unless and until he is found guilty beyond a reasonable doubt by a judge or jury.  A jury will typically not be able to hear about his prior convictions, because under our legal system that is called character evidence, and character evidence is generally prohibited from being introduced at trial. This is true even if it is a bench trial where the judge already has access to a defendant's criminal record. In these cases, the judge is instructed to disregard that record during the trial.
If you or someone you love has been injured a Boston drunk driving accident, call for a free and confidential appointment at (617) 777-7777.
Additional Resources:
Man Facing 6th Drunk Driving Charge Rammed Cruisers During Chase, Police Say, August 26, 2016, CBS Boston, By News Desk
More Blog Entries:
Report: Possible Tougher Drunk Driving Laws in Massachusetts, March 30, 2016, Boston Drunk Driving Accident Lawyer Blog