According to a recent news feature from CBS Boston, a man in Framingham, Massachusetts was just killed in a fatal car accident involving an alleged drunk driver.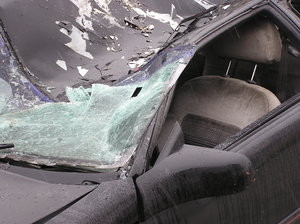 Authorities have said defendant, who is currently 33 years old, is facing criminal charges after he allegedly hit and killed a pedestrian while driving under the influence of alcohol. As prosecutors have alleged, this was defendant's second operating a motor vehicle under the influence of intoxicating liquor or drugs (OUI) and a man was killed, and he is being charged with OUI second and motor vehicle homicide by reckless negligent operation.
Following his arrest, he was released on a $5,000 cash bond, and ordered not to consume any alcohol, use any illicit drugs, and must submit to random drug tests as a condition of his release from the county jail.   It should be noted that in the Commonwealth of Massachusetts, a $5,000 cash bond requirement would mean that the defendant would be able to pay that amount directly to the court or even pay a 10 percent amount ($500) to secure his release. The reason for this cash or surety requirement is because legislators in Commonwealth of Massachusetts do not like bail bonding agents and bail recovery agents (bounty hunters), so the 10 percent can be posted with the court instead of lost forever to bonding agent.
A Boston drunk driving car accident that results in the arrest of defendant, as is often the case, will by necessity operate somewhat differently than a car accident case where defendant has not been arrested. The main difference is that defendant has a fifth amendment right to remain silent while his or her criminal case is pending, yet plaintiffs in civil cases, unlike prosecutors in criminal cases, can force a defendant to testify as to what happed. For example, a civil plaintiff's lawyer can take a deposition of the complaining witness (victim) and make them answer questions for hours. This is not allowed in a criminal case or in a civil case where defendant still has pending criminal charges.
Those who are old enough to remember the famous O.J. Simpson trial may recall that the alleged victims could not sue him until after his criminal case was completed, because, at that point, he no longer had a privilege against self incrimination (PASI) and he could be found compelled to testify at trial and at a deposition.
In terms of your car accident lawsuit, it typically means the criminal trial must run its course before you proceed with the civil lawsuit. However, you cannot simply wait around, and you must speak with attorney as soon as possible to make sure the statute of limitations is not allowed to run out. In some cases, it may be necessary to file a civil case and then have that case stayed until the criminal matter is resolved. It is often a good idea not to mention a civil case until the criminal trial is complete, because defendant is usually more likely to accept responsibility and take a reasonable plea offer when he does not know he is about to be sued, and the admission of guilt in the plea can be used in subsequent civil lawsuit.
If you or someone you love has been injured in a Boston drunk driving accident, call for a free and confidential appointment at (617) 777-7777.
Additional Resources:
Framingham Man Struck And Killed By Alleged Drunk Driver, January 21, 2016, CBS Boston
More Blog Entries:
Massachusetts is Mid-Level on Drunk Driving Prevention, June 19, 2015, Boston Drunk Driving Injury Lawyer Blog