Around the holidays we tend to see some pretty strange behavior. This is especially true when dealing with drunk driving arrests. During this past Halloween, we saw a woman dressed as a Zombie get arrested twice for drunk driving in the same night while in full costume. According to a recent news article from the Gothamist, a man dressed as one of Santa's elves was arrested for driving drunk in New Jersey this holiday season. Authorities have alleged defendant was passed out drunk behind the wheel of a motor vehicle after a long night of partying. He was dressed as an elf at the time of his arrest.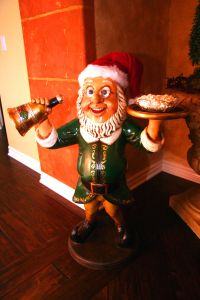 Police found the 23-year-old driver dressed as elf in a store's loading dock in his car with the engine running, lights on, and radio turned up to full volume. He was wearing what police describe as a red shirt and pants and a white ruffled collar.

Witnesses say defendant was initially confused when awoken by police and had an open beer can inside the car. He was charged with driving a motor vehicle under the influence of alcohol and possession of an open container of alcohol inside a motor vehicle. Authorities are glad nobody appeared to injured during this alcohol-related incident.
While this article was presented as a humorous social commentary, as our Boston drunk driving accident attorneys understand, there is nothing funny about drunk driving. Each year thousands are killed or injured due to alcohol-related car accidents. In some cases, it is the drunk drivers themselves who are injured or killed, and other times it is a passenger in his or her vehicle, pedestrians, or occupants of another car.
In some cases, occupants of a drunk driver's car are seriously injured and must file a claim against the driver's insurance company, even if that person is a friend or family member. While this may seem like an uncomfortable predicament to be in, you still have a right to be compensated for personal injury and property damage caused by someone else's negligent behavior, despite your personal relationship to that person. The situation is somewhat more palatable because it will likely be his or her insurance company who is actually paying any damages. However, regardless of who ultimately pays any settlement or jury verdict, you should speak with an attorney as soon as possible to discuss your rights.
It is also important to keep in mind that at-fault driver's insurance company may contact you immediately following the accident and try to get you to quickly sign a release of liability in exchange for paying your immediate medical bills. While you may need money quickly, it is advised you do not agree to this offer or sign any documents without first consulting a Boston car accident lawyer. The insurance company is likely much more concerned with paying out as little as possible in claims than with your wellbeing and financial needs as a result of the accident.
Another thing to keep in mind is that if you are injured while a passenger in a drunk driver's car, it is important to contact the police. While the driver may try to persuade you not to call the police because he or she is worried about being arrested for operating a motor vehicle under the influence, it is essential that a police report be generated, so your attorney will have more evidence to use when fighting for your right to a full and appropriate settlement or jury verdict.
If you or a loved one was involved in a drunk driving accident in Massachusetts, call Jeffrey Glassman Injury Lawyers for a free and confidential appointment — (617) 777-7777.
More Blog Entries:
Residents Fear Drunk Driving with New Milford Casino, Boston Drunk Driving Accident Lawyer Blog, November 23, 2013