A woman was killed in a recent accident in Waltham, and her boyfriend has been arrested.
According to Wicked Local, the boyfriend was recently arrested and was charged with operating under the influence. The accident happened after their vehicle flipped on Main Street. He was following her vehicle as it happened.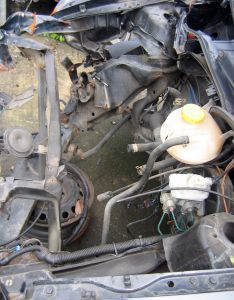 The Middlesex District Attorney's office reports that the two were leaving a party in Maynard and were heading home when it all happened. He remained at the crash site after the accident. According to officers, the boyfriend appeared to be intoxicated. He had bloodshot eyes, he was slurring his words and his balance was unsteady. He admitted that he had been drinking prior to the accident, but said that he didn't know how the accident happened.
Our Waltham accident lawyers understand that there is no safe way to get home if you're behind the wheel of a motor vehicle after drinking. You can have your buddies follow you, you can take roadways that aren't populated — you can even use the one-eye-open trick. You are still a high risk to yourself and everyone else on the road There is never a time you should get behind the wheel after consuming alcohol. Your risks for an accident, serious injury and even death skyrocket.
After speaking with officers, the man was arrested because he refused to take a sobriety test. As they booked him, officers found a bottle of vodka in his coat pocket. He entered a plea of not guilty to his OUI charges.
According to police reports, the girlfriend was not wearing her seat belt when the vehicle flipped over. Officers are also citing speed as a factor in the accident.
According to Alcohol Alert, there were close to 350 people killed in alcohol-related car accidents in the state of Massachusetts in 2011. These accidents accounted for close to 40 percent of all of the car accidents recorded in the state for the year.
In 2010, there were fewer than 315 drunk driving-related fatalities in the state.
But why do people continue to get behind the wheel after consuming alcohol? There are so many alternative and safe ways to get home.
Every year, there are thousands who are killed in these drunk driving car accidents. These accidents are completely preventable. You're not only risking your own life, but you're risking the lives of innocent people. Make the safe and responsible decision.
The first and most important thing you should do is designate a sober driver to get you home. If you're stuck without a designated driver — don't worry. You can call a taxi, call a friend or family member, make use of public transportation or stay the night somewhere.

If you are injured in an accident in Massachusetts, call Jeffrey Glassman Injury Lawyers for a free and confidential appointment — (617) 777-7777.

More Blog Entries:

Boston Drunk Driving Crashes: Don't Push Your Luck This St. Patrick's Day , Boston Personal Injury Attorney Blog, March 18, 2013
Spring Gives Rise to Boston Child Bicycle Injuries , Boston Personal Injury Attorney Blog, March 25, 2013