According to recent news article from the Washington Post, a Sergeant Major in the United States Army was standing in his driveway in Fayetteville, N.C. around 9:30 in the morning. He was loading the bed of his pickup truck for a Veteran's Day weekend fishing trip when a drunk driver struck him.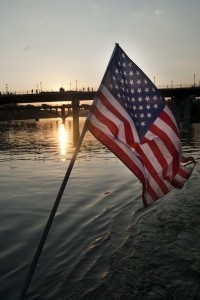 After being a veteran of two wars, and after serving 22 years in the military, he was pinned between the bumper of his truck and hood of defendant's car, and he could smell his flesh burning on the engine of the other car. His truck had been pushed nearly 100 feet from where it was parked and bent in a mangled mess of metal and auto parts.
His wife described how he was bleeding out, but the bent metal acted as a tourniquet and kept him from dying immediately. He said he could hear her voice trying to keep him from passing out as the first responders tried to cut him free and stabilize the bleeding.
As a result of the horrific accident, he lost both legs above the knee and his right thumb and index fingers. He was first treated at Duke University Medical and then transferred to Walter Reed National Military Medical Center in the Washington, DC area. Today he lives with his wife in his apartment across the street from Nationals Park and walks on two prosthetic limbs. He is now raising money and awareness by walking a Mother's Against Drunk Driving (MADD) 5k. He says he was deployed nine times over the course of his career, including multiple times to Iraq and Afghanistan as a paratrooper, and was never injured, but he almost died on his own front lawn as a result of drunk driving. The defendant was convicted of drunk driving and spent 16 months in a jail in North Carolina and was recently released.
First, our Boston drunk driving attorneys would like to express our deepest regards to this brave veteran and his family and commend him on his work to stop drunk driving.   As horrific as this account was, it, unfortunately, is not a rare occurrence. Every day, people are seriously injured or killed as a result of drunk driving accidents. In fact, far more Americans have been injured or killed in drunk driving accidents than in all the wars combined.
The National Highway Traffic Safety Administration (NHTSA) stated that, in the year 2000, over 2 million drunk driving crashes occurred in the Untied States with nearly 13,000 killed and around half a million people injured. The agency also estimates that a person is injured in the United States in a drunk driving accident approximately every two minutes.
While is astounding to read statistics like these, is also astounding to hear the stories of those who were personally affected by a drunk driver. It would be nice if everyone took the time listen to these stories and avoided driving while impaired. Many people only learn after being arrested, and some never learn. Fortunately, after being arrested for drunk driving, many are required to attend a Victim Impact Panel administered by MADD.
If you have been injured in a Boston drunk driving accident, call for a free and confidential appointment at (617) 777-7777.
Additional Resources:
This soldier lost his legs to a drunk driver; now he's walking to ensure that doesn't happen to anyone else, September 26, 2015, Washington Post, by Thomas Gibbons-Neff
More Blog Entries:
1970s idol David Cassidy fined $900 in drunken-driving case , November 17, 2013, Boston Drunk Driving Accident Lawyer Blog