People living in cities like Boston are constantly using ridesharing services like Uber and Lyft to get around town and get home from bars. While these services were not around a few years ago, now people can't seem to live without them.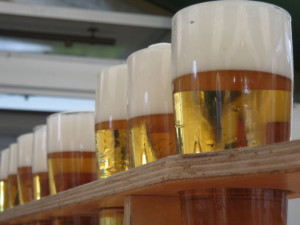 According to a recent article from Fox News, Mothers Against Drunk Driving (MADD) is really stressing the living portion of that expression. MADD and Uber are teaming up, as they have in the past, to curb drunk driving. It makes sense from the perspectives of both Uber and MADD. MADD wants to stop people from driving drunk by getting them to take a ride from a sober driver, and Uber wants to get paid for having their sober drivers give people a ride home.
As our Boston drunk driving accident lawyers understand, people are a lot more likely to take an Uber home from a bar than they are to hail a cab or take the T. While there are a lot of possible explanations, it is likely that the cars are new, and the fact that you don't need to have cash or figure out how much to pay a driver makes everything seem easier. Anyone who lives in Boston has probably experienced or knows someone who has a experienced a longer than expected cab ride from Government Center to their apartment with a meter fair also higher than expected. With a ridesharing app, this is not longer an issue.
As part of this new plan to work together, the company will donate a portion of proceeds in certain cities to MADD as part of their fundraising effort. While people can obviously request a ride throughout the day, it should not be surprising that Uber reports a large portion of the company's business takes place between 10 p.m. and 3 a.m. after the bars are closed.
It is safe to assume that at least some portion of these people would have been driving their car, even when intoxicated, had it not been for this ridesharing service or one of their competitors.   This, of course, is not making local taxi drivers all too happy, even though many of these people would not necessarily be taking a cab, but this is seen as unfair competition by many. On the other hand, the ridesharing companies are suing some local taxicab commissions on grounds they are the ones engaging in unfair anticompetitive practices.
MADD says the money received as a result of this partnership will be made available to victims of drunk drivers and their families to help them in their time of need. It is difficult for many to understand just how financially burdensome one of these accidents can be. For example, a modern prosthetic leg, which only is rated to last for three years, costs around $10,000, and, while people have insurance, they may not be getting the most advanced prosthetic devices with their policy coverage.   People may also need to make major changes to homes or move to an adaptive living environment. These costs are something you should discuss with an experienced drunk driving accident lawyer.
If you have been injured in a Boston drunk driving accident, call for a free and confidential appointment at (617) 777-7777.

Additional Resources:
Uber, MADD partnership on anti-drunk driving initiative, September 25, 2015, Fox News, by Katie Kormann
More Blog Entries:
Alleged Drunk Driver Crashes into Saugus, Massachusetts Home, Aug. 21, 2014, Boston Drunk Driving Accident Lawyer Blog