Drunk driving accidents involving victims who were riding in a taxi cab are more common than one might initially think. According to a recent news article from the Arlington Patch, a 26-year-old suspected drunk driver was arrested for allegedly rear-ending a taxi cab early one Saturday morning.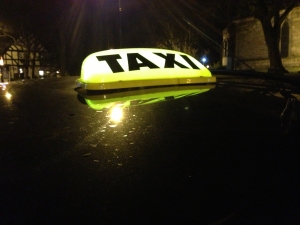 Witnesses say defendant was driving her car in an erratic manner when the car accident occurred. At the time of the accident, a police officer was driving behind defendant and immediately responded to the accident. Officers say driver appeared to be intoxicated and was asked to take several Standardized Field Sobriety Tests (SFTSs) after exiting the vehicle. After allegedly failing all three tests, police placed defendant under arrest for operating a motor vehicle under the influence of intoxicating liquor or drugs (OUI), negligent operation of a motor vehicle, a marked lanes violation, and following too closely (tailgating).

During the arrest, police found marijuana in the center console of defendant's car and issued a citation for the civil infraction of possession of marijuana. As our Boston drunk driving accident attorneys can explain, a person can be charged with operating under the influence of marijuana in the same manner in which he or she could be charged for operating a motor vehicle after consuming an intoxicating amount of alcohol. If at-fault driver causes an accident while under the influence of marijuana, he or she could also be found civilly liable (negligent) in a car accident lawsuit in the Commonwealth of Massachusetts.
This is confusing to some people because marijuana has been decriminalized in the Commonwealth. However, while it is not technically illegal to possess marijuana (a citation for civil infraction is still issued), it is still illegal and negligent to drive under the influence of marijuana or any other drugs. This makes sense, as it is not illegal in any way (civilly or criminally) to drink alcohol since the repeal of prohibition, but is not legal to drink and drive.
In the context of a civil car accident lawsuit, it is only necessary to prove at-fault driver was negligent. In the Commonwealth of Massachusetts, every driver owes a duty of care to protect foreseeable victims from foreseeable harm. It is well established law that driving a motor vehicle while intoxicated by liquor or drugs is a breach of this duty of care.
This does not, however, mean that you will automatically win your case. Your attorneys must also establish the accident was caused by the breach of this duty of care. In order to prove causation, it is necessary to prove both actual causation and proximate causation.
In the context of actual causation, your attorney must prove the accident would not have happened had at-fault driver been sober. In cases where a driver was tailgating and failed to react in time to stop an accident, this may be easier to establish. However, if, for example, a drunk driver hits a car and the driver of that second car is also drunk and hits a third car, it is necessary to prove the second driver would not have hit the third vehicle had he or she been sober. Again, if the second driver is following too closely to the third vehicle when an accident occurs, this may be easy to prove. If the driver was not tailgating and was pushed into a lane of oncoming traffic in the crash, it may require more evidence to prove causation of the second accident.
Call Jeffrey Glassman Injury Lawyers for a free and confidential appointment — (617) 777-7777.
More Blog Entries:
NHTSA Urges Ignition Interlock Devices for all Drunk Driving Offenders, Boston Drunk Driving Accident Lawyer Blog, December 28, 2013