According to a recent news feature from Fox 25 Boston, troopers from the Massachusetts States Police (MSP) have arrested a man who allegedly drove his car for over 20 miles in the wrong direction of Route 128, which is a fairly major state highway, while intoxicated.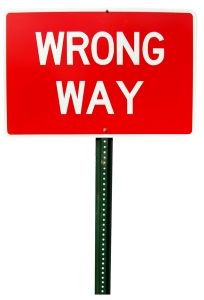 Authorities say the call to 911 came in around three in the morning from a concerned motorist who told them there was a person who appeared to be drunk driving in the wrong direction of Route 128 in the Manchester by the Sea area just north of Boston.  When the troopers located the suspect driver, they attempted to pull him over, but they ended up having to follow him for miles.
After following him for around 20 miles, they decided to radio ahead to other state troopers who could deploy stop sticks on the road surface.  A stop stick is a collapsible stick with spikes on it designed to puncture the tires on a moving vehicle.  The stick is generally on a rope so that troopers can deploy it on the far side of the lane and then pull it back into place when the suspect vehicle is approaching.  The reason for this is so that the suspect does not see the stop stick on the roadway and there is not risk that another vehicle will accidently run over the stop stick. With little choice, and a feeling that it was reasonably safe to stop the vehicle in such a way, they attempted to so and were successful.
As part of the article, a witnesses was interviewed who noticed the driver in the opposite lane traveling in the same direction as they were headed and was able to record the alleged drunk driver using a cell phone video. While there was not much traffic at that time of night, you can see other cars driving towards and around the suspect's vehicle.  Fortunately, despite the fact that he would allegedly not stop his car for 20 miles and had all of his tires destroyed, nobody was reportedly hurt as result of the drunk driving incident. It is important to note that these are merely allegations against the alleged drunk driver, and he is presumed innocent unless and until he is proven guilty beyond a reasonable doubt to a judge or jury.
As our Boston drunk driving accident attorneys have seen in far too many cases, people who are willing to drive when so heavily under the influence of alcohol or drugs not only aren't they driving in a safe manner, they are acting with a complete disregard for the safety of themselves and others.  This could have easily resulted in serious personal injury or death, and that is why the police are taking these incidents so seriously.
Some witnesses interviewed felt the police should have been able to stop him before he traveled so far in the wrong direction. However, at that time of night, it is fairly easy to keep the road clear, and police are hesitant to cause a car crash where people can get hurt.
If you or someone you love has been injured a Boston drunk driving accident, call for a free and confidential appointment at (617) 777-7777.
Additional Resources:
Police: Drunk driver went wrong way down highway for 20 miles, July 26, 2016, Fox 25, By Crystal Haynes
More Blog Entries:
Bruins Star Ray Bourque Arrested for Drunk Driving After Car Accident, July 5, 2016, Boston Drunk Driving Injury Lawyer Blog