Thanksgiving is a favorite holiday for many Americans. There is no need to worry about gifts yet, and it is based on a meal at which everyone can abandon their diets and eat their favorite foods. While some get stuck with the cooking, others will be relaxing and watching football and drinking alcohol. While there is no doubt this can make for a great day, it often leads to many tired and drunk individuals hitting the roads and traveling home at the end of the night. It should come as a surprise to nobody that drunk driving accidents are more common around the holiday period each year, but many may not realize that Thanksgiving tends to kick off the period of increased drunk driving incidents.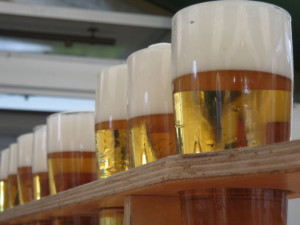 However, according to a recent report from the trade publication PYMNTS, it is not Thanksgiving Day that starts the drinking holiday but the Wednesday before, which people in the alcohol beverage industry are calling "Blackout Wednesday." It is on Blackout Wednesday that college students are home and headed out to the bars, and those of all ages in the holiday spirit contribute to make the day amount the highest sales days of the year at bars and liquor stores across the country.
To get an idea of how much alcohol sales increase during the holiday season, it is helpful to look at the actual numbers. Each year there is about $220 billion in alcohol sales. In other words, we are purchasing around a quarter of a trillion dollars in alcohol each year. Of that $220 billion in alcohol sales, around $40 billion is spent during the months of November and December. That is a fairly significant increase in sales during those two months, and holidays that fall in those months are a big reason for the added sales.
In addition to holidays spent at home or at family members' houses, and going to out to bars with friends, there also tend to be a lot of work-related holiday parties during those months, and this leads to a lot of drunk driving accidents in the greater Boston area.
In some cases, the party takes place at work, but often the company will reserve a private room at local bar or restaurant. You have people drinking right after work and then getting into a car and driving home. Due to the fact that it was after work, most people are in their own vehicle rather than riding with someone else, so the total number of drivers is increased during this period of time. Unfortunately, more drivers tends to mean more drunk drivers, and that leads to more drunk driving accidents.
One interest thing pointed out in this article is that it is nothing new for Thanksgiving to be associated with drinking alcohol. In fact, during the late 1700s and early 1800s, every American age 15 or older would consume on average of seven gallons of 100 percent pure alcohol per year. This number makes more sense if we compare it to today's numbers, which estimate an average consumption of 2.26 gallons of pure alcohol per year. The number used is in pure alcohol, which is 100 percent alcohol or 200 proof, so the amount of liquid in a beer is not determinative.
If you or someone you love has been injured in a Boston drunk driving accident, call for a free and confidential appointment at (617) 777-7777.
Additional Resources:
Selling Thanksgiving Spirit (In Liquid Form), November 19, 2015, PYMNTS
More Blog Entries: Report:
Massachusetts is Mid-Level on Drunk Driving Prevention, June 19, 2015, Boston Drunk Driving Injury Lawyer Blog