A recent study published in the Journal of Studies on Alcohol and Drugs revealed 1 in 3 recent high school graduates have ridden with an impaired driver in the last year, and they were more likely to be a passenger of a marijuana-impaired driver than one who is alcohol-impaired.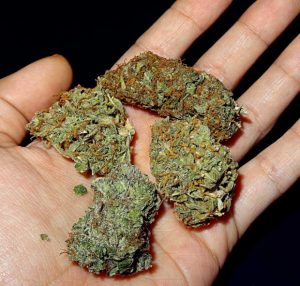 Although the prevalence of marijuana use has increased with a growing movement toward cannabis legalization nationally, this behavior remains as risky as ever.
The National Highway Traffic Safety Administration (NHTSA), in a report to Congress last summer, reveals the signs of marijuana-impaired driving may be more difficult to detect than alcohol-impaired driving, but it's no less dangerous. Marijuana users are about 25 percent more likely to be involved in a crash than drivers with no evidence of marijuana use, according to NHTSA. Some of the ways cannabis impairs a person include:
Reduced reaction time and less ability to make decisions;
Impairment of coordination, distorted perception, memory loss and trouble problem-solving;
Divided attention to tasks.
Safe driving requires the person behind the wheel to be alert and ready to rapidly respond to hazards. While some argue drivers under the influence of marijuana are less of a danger than those under the influence of alcohol, the reality is there is nothing safe about driving under the influence of any substance. 
Motor vehicle crashes are the No. 1 cause of death and injury among young people, according to the Centers for Disease Control and Prevention. We know that by-and-large, most impaired drivers are young, male and have a history of prior driving offenses. They are also more likely to have ridden as a passenger with an impaired driver.
When researchers at Colorado State University examined this last behavior more closely, they followed a group of 2,000 teens from 81 schools across the country for two years as they emerged into adulthood. They examined driving-related behaviors involving alcohol, marijuana and illicit drugs. Surveys were issued asking how many times in the last year participants rode as a passenger with someone who was drinking alcohol, marijuana and illicit drugs. Study authors also asked who was driving and whether the subject binge drank or used marijuana themselves in the 30 days prior.
The result was that 33 percent reported being a passenger of a drunk driver at least once in the last 12 months. Of those, 23 percent of impaired drivers were under the influence of marijuana. One in five were under the influence of alcohol. Roughly 6 percent were impaired by illicit drugs (i.e., cocaine, ecstasy, etc.).
The impaired drivers did include older adults, though it was far more likely the driver was a peer of the passenger. And while young males were most often the impaired driver, the study found young women were more likely than young men to ride with someone who was impaired. Hispanics were almost five times more likely to be a passenger with a driver impaired by illicit drugs as those of other groups, and those not attending college were more at risk than those enrolled.
Study authors say the results drive home the importance of continued research as well as campaigns that target potential passengers of impaired drivers, encouraging them to find alternatives.
Obtaining Compensation for Impaired Driving Passengers
The CDC reports that every day, 28 people in the U.S. are killed in crashes with an alcohol-impaired driver, accounting for one-third of all traffic deaths.
Riding with an impaired driver is unquestionably risky, but that doesn't mean injured passengers in drunk driving accidents are without legal options. Drunk driving injury attorneys in Boston know that while some defendants will argue passengers accepted the "assumption of risk" in getting into a vehicle with an impaired driver. However, this will not necessarily bar a claim.
In Massachusetts, MGL ch. 231 section 85 details the effect of "contributory negligence," which is the amount of responsibility an injured person shares for his or her own injuries. The choice to get behind the wheel of a vehicle may be negligent, but it doesn't erase the responsibility of the driver to use reasonable care in operating a vehicle. Massachusetts follows a model of comparative negligence, which means so long as the negligence of the plaintiff does not exceed the negligence of the defendant, damages can still be obtained, though they will be proportionate. So for instance, if one is deemed 20 percent negligent for choosing to ride as a passenger with an impaired driver, but the driver still bore 80 percent of the blame, plaintiff will be entitled to collect 80 percent of the sum damages.
It would be difficult for most drunk driving defendants to argue that the chose of the passenger somehow did more to cause injury than the drunk driver himself or the bar that supplied the alcohol. Additionally, if the passenger was unlawfully served alcohol by the same bar or vendor (per MGL ch. 138 section 69), one could make a compelling argument that this also contributed to the poor decision to get behind the wheel with a drunk driver.
Pushing for Smarter Marijuana Laws
Because marijuana appears to be a significant factor in impaired driving crashes in Massachusetts, tackling this issue requires a comprehensive approach – especially as the state prepares for the first legal sales of adult use marijuana this summer. (The Cannabis Control Commission recently voted to accept rules to govern the new legal industry in the Commonwealth, following passage of a 2016 referendum legalizing recreational marijuana here.)
As noted by the Governors Highway Safety Association, passage of medical marijuana and recreational marijuana laws are associated with an increased marijuana presence in fatally-injured drivers in three of 14 states that implemented these laws prior to 2010. In a 2016 survey of motorists in Washington and Colorado (where the drug is legal for recreation) who had used any marijuana in the last month, 44 percent reported driving under the influence of marijuana.
Drug-impaired driving laws are more difficult to enforce because these chemicals aren't processed in the body the same way as alcohol, meaning chemical tests measuring concentration in blood or urine is not as reliable. Cases often end up relying heavily on subjective evidence gleaned by traffic officers. Having more officers trained and certified as drug recognition experts (DREs) will help boost the rate of criminal convictions and hopefully deter more people from driving while high.
If you or someone you love has been injured a Boston drugged driving accident, call for a free and confidential appointment at (617) 777-7777.
Additional Resources:
CSU study: One-third of young adults have ridden with an impaired driver, March 21, 2018, Colorado State University
More Blog Entries:
Boston Drunk Driving Accidents involving On-The-Job Injuries, March 21, 2018, Boston Drugged Driving Injury Attorney Blog