According to a recent news article from the New York Post, a 19-year-old college student in Texas was allegedly attempting to take a topless selfie when she crashed into the back of a police car that was stopped ahead of her.  The accident occurred with enough force to deploy the airbags in both vehicles.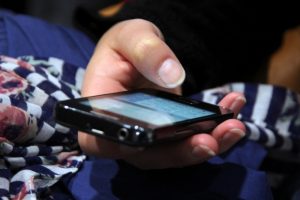 When the officer stepped out of his vehicle and went to check on the driver of the car that allegedly slammed into his cruiser, he saw the suspect quickly trying to put her blouse back on.  The officer then asked the suspect why she was not fully dressed when driving her vehicle and she allegedly told the officer that she had taken her blouse off so she could send her boyfriend a topless selfie photo of herself using the Snapchat app on her smart phone.  She believed she was stopped at a light at the time.
At this point, the officer detected an odor of alcohol and suspected she had been drinking.  He also allegedly observed an open bottle of wine in the vehicle's cup holder located between the two front seats.  He believed she had been driving under the influence of intoxicating liquor, and soon placed her under arrest on suspicion of drunk driving following her crashing into his fully marked police cruiser.   The officer reported asking her to perform a series of standardized field sobriety tests, which she reportedly failed.  He then took her to a local hospital, so she could have blood drawn to confirm that her blood alcohol level (BAC) was above the legal limit.
After she was taken to the police station for booking and processing, she was charged with various offenses including drunk driving and released on a bond in the amount of $2,000. Since she was under the age of 21, she was also charged with being a minor in possession of alcohol, which is a separate criminal offense.  It is important to note that she has merely been accused of drunk driving and has not been convicted of any offense in connection with this accident.  She is therefore presumed innocent unless and until she is found guilty in a court of law by a judge or jury.
While people often see stories like this and circulate them on the internet because they can be somewhat humorous, drunk driving is a very serious matter that can and often does result in serious injury or death.  Our Boston DUI accident lawyers have seen many cases over the years where victim's were permanently injured or killed, and the aftermath was devastating to the victims and their families.   It is hard to comprehend how much suffering can be caused by a drunk driving accident.
This is one of the reasons that those who are arrested for drunk driving often have to go a victim impact panel to hear from victims and their families about how their lives have changed following a serious or deadly drunk driving car accident.
If you or someone you love has been injured a Boston drunk driving accident, call for a free and confidential appointment at (617) 777-7777.
Additional Resources:
Drunk student crashes into cop car while taking topless selfie: police, October 27, 2016, New York Post, Reuters
More Blog Entries:
Bruins Star Ray Bourque Arrested for Drunk Driving After Car Accident, July 5, 2016, Boston Drunk Driving Injury Lawyer Blog