According to a recent news report from the Daily Record, New Jersey police arrested two men who were involved in an alleged drunk driving car accident, which they later attempted to cover up. Authorities say one of the two men crashed his BMW earlier in the night after running a stop sign and hitting a guard rail on the opposite side of the road from which he was driving.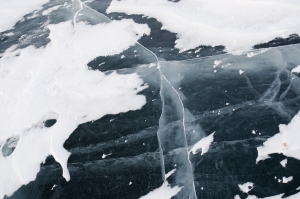 After crashing his car, suspect allegedly drove the heavily damaged vehicle home. It belonged to a family member. He then returned to the scene of the accident with another man who police also arrested that night. When officers arrived, they found two men walking in the intersection just before 3:00. Driver was not wearing a shirt. He supposedly told officers his shirt got wet, so he had removed it. The temperature that night was one degree with a severe wind chill.
Police found two mostly-empty five-gallon buckets of water in the backseat of their vehicle. Police say defendants had poured nearly all of the water onto the intersection to create black ice on the road surface, so this would be blamed as the cause of his earlier accident rather than being intoxicated.

Officers are not sure how many trips these men made to pour water on the road, because one man lived less than a mile from the accident scene, but the road was definitely rendered unsafe, as it had become covered in black ice. Department of Public Works employees arrived to salt the road, and it took around 1,000 pounds of road salt to make the intersection safe for traffic.
Police arrested both men and took them to the station for processing. The driver of the earlier accident was asked to take a breath test and was later arrested for drunk driving, careless driving, failure to stop at a stop sign, leaving the scene of an accident, failure to report a traffic accident, and disorderly conduct for creating a dangerous situation.
Police charged his alleged accomplice with driving under the influence (DUI), careless driving, and failure to wear a seat belt. Police say he appeared intoxicated and denied driving that night, though he offered no explanation as to why he was seated in the driver's seat of his still-running vehicle when police found him.
While this is an extreme example, if true, of a person engaging in conduct which showed a complete disregard for the safety of others on the roads, it can be used to illustrate various types of damages in Boston car accident lawsuits.
As our Boston drunk driving accident attorneys can explain, traditional claims for damages involve an attempt to put plaintiffs in the same position they were in had an accident not occurred. These types of damages are known as compensatory damages and can include medical bills, pain and suffering, funeral expenses in the cases of a wrongful death action, and other types of special damages. If a loved one is lost in an accident, in addition to the claims of the estate, a surviving spouse can make a claim for loss of consortium.
However, when a defendant engages in conduct that shows such a disregard for safety of others, punitive damages may be appropriate. Punitive damages can be far more than mere compensation, so long as there is a rational relationship between harm suffered and verdict awarded.

If you or someone you love has been injured a Boston drunk driving accident, call for a free and confidential appointment at (617) 777-7777.
More Blog Entries:
Teens Don't Fully Understand What it Means to Drive Drunk, April 4, 2014, Boston Drunk Driving Injury Lawyer Blog