According to a recent news article from the Boston Herald, New England Patriots' defense tackle, Vincent Wilfork, came to the aid of a woman involved a drunk driving accident after the playoff game in Massachusetts.
Police say defendant admitted to drinking nine beers at Gillette Stadium during the game before getting behind the wheel of her car to drive home following the big win. A responding police officer says he arrived at the accident scene to find defendant inside her overturned Jeep in a ditch on the side of Route 1 a few hours after the game. He also says Wilfork reach into her car and pulled defendant out with one arm. Wilfork is listed by the National Football League (NFL) as being 6'2″ and weighing 325 pounds, while police say defendant was around 5'5″ and 175 pounds, so he did not have much trouble getting her out of her car.

She was arraigned for drunk driving and negligent driving in Wrentham District Court in Massachusetts. She declined to speak with press after court but released a statement saying she was very grateful Wilfork stopped to help her out of her car after he had just come from a big win in the Patriots' game. She further said he "had a nice way about him" and was "obviously raised well and raised well by the Patriots."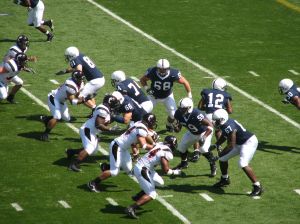 Wilfork responded to questions from the media by saying he saw someone in need of help and offered his assistance, and it was not meant to be a big deal.
Her arrest report says she admitted to drinking four beers before the start of the game, three more beers during the game, and two beers in the parking lot following the game. Police found an open beer in her car and she allegedly had beer on her pants and Patriots' jersey. Police also says they gave defendant a breath test and she blew a 0.17 percent.
As our Boston drunk driving accident lawyers understand, this is nearly two times the legal limit in the Commonwealth of Massachusetts of 0.08 grams of ethanol (drinking alcohol) per 100 milliliters of blood. In order to understand what this number means in terms of a drunk driving accident, it is important to look at why a legal limit of 0.08 was created. Mothers Against Drunk Driving (MADD) was created to stop the dangerous behavior of drunk driving. Drunk driving contributes to thousands of deaths each year and numbers in the past century far exceed U.S. deaths in all major wars according to MADD.
While the organization is aware it is still unsafe to drive with a BAC of lower than 0.08 percent, this was a figure they were able to get passed by Congress. Studies conducted by MADD and National Highway Traffic Safety Administration (NHTSA) show at BAC of 0.08 a driver will have difficulty performing tasks necessary to safely drive a motor vehicle. These tasks include operating in a divided attention environment, performing complex movements, seeing dangers, and being able to act in a timely manner, and many other things we do every time we get behind the wheel of a car.
When someone is driving with a blood-alcohol concentration of twice the legal limit, their mental and physical abilities are so compromised there is no way to drive in a safe manner. This is not only illegal, but also negligent.
If you or a loved one was involved in a drunk driving accident in Massachusetts, call Jeffrey Glassman Injury Lawyers for a free and confidential appointment — (617) 777-7777.
More Blog Entries:
Residents Fear Drunk Driving with New Milford Casino, Boston Drunk Driving Accident Lawyer Blog, November 23, 2013