The Fourth of July Holiday is one of the most dangerous days to be on the road. Most people have a day off from work to celebrate our nation's independence and a lot of people spend that day celebrating with friends at bars, barbeques and parties.
Unfortunately, when out celebrating in the heat and sun, it is far too easy to grab a few too many beers or drinks in order to keep cool. This can lead to disaster when driving home.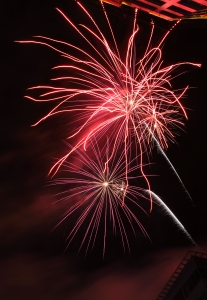 Intoxicated driving always increases on the Fourth of July, which is why police and local law enforcement nationwide step up their efforts on Independence Day. There are generally DUI checkpoints and more officers out on patrol to catch drunk drivers on major drinking days, and the Fourth of July celebration will be no exception.
Our Boston drunk driving injury lawyers know that those who choose to drink and drive over the Fourth of July holiday don't just put themselves at risk. Every year, accidents happen because of drunk drivers and innocent victims experience property damage, personal injury or even death. Avoiding these terrible outcomes requires a commitment by all drivers to celebrate in a smart and safe way on the Fourth of July.
Drunk Driving Endangers Everyone
A person with a BAC above the legal limit of .08 has more than double the risk of becoming involved in a car accident, and the higher the BAC the more impaired the driver is and the greater the danger.
The amount that you can drink before you have had too much varies depending upon your weight; how much you were drinking, your gender and what you were drinking. However, a 150 pound female who has six beers over six hours would likely be close to or over the legal limit and a man who weighed the same would be able to consume around seven beers or less over six hours in order to approach the .08 level.
At a Fourth of July barbecue with friends, it would be far too easy to consume this much alcohol or more, perhaps without even realizing how much you are drinking or noticing that you are starting to get tipsy. Getting in the car after having "just a few beers," could cause you to get arrested or worse- could cause an accident that ends your own life or that injures or kills your passengers or another person on the road.
No amount of celebrating is worth taking on that risk. Instead, it is advisable to have a plan of action before you go out drinking for Independence Day. If you know that you are going to be consuming alcohol to celebrate, you should have a designated driver with you and/or the telephone number of a local taxi cab company programmed into your phone.
If you see your friends start to get into the car after having had too much to drink, stop them and get help. And, if you are going to be driving, limit your consumption of alcohol to far less than you think you reasonably can drink just so you can be sure that you don't end up causing an accident that you can never take back.

If you or a loved one was involved in a drunk driving accident in Massachusetts, call Jeffrey Glassman Injury Lawyers for a free and confidential appointment — (617) 777-7777.
More Blog Entries:
Boston Drunk Drivers Not Threatened by Officers, Boston Drunk Driving Accident Lawyer Blog, June 12, 2013.