There is no denying that underage kids in the state are consuming alcohol. What's more terrifying are the risks they're putting themselves at for serious illnesses, injuries and car accidents in Massachusetts. It may not all be their fault though. Some are blaming advertisements for increases in underage alcohol consumption.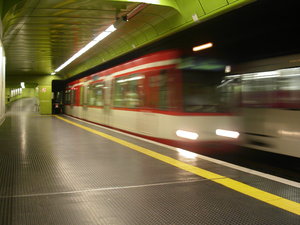 To help to reduce these risks, the Secretary of the Commonwealth's Health and Human Services, Dr. JudyAnn Bigby, is doing all she can. She recently made an announcement that the Massachusetts Bay Transportation Authority (MBTA) will no longer be displaying advertisements for alcohol at any of its facilities, including commuter rail trains, bus shelters, buses, subway cars and stations. These ads will no longer be found anywhere on MBTA property. The move was made after studies revealed that the more teens see these ads, the more alcohol is consumed by this age group.
Our Boston drunk driving car accident attorneys understand that it's important to teach our kids about the dangers of drinking and especially drinking and driving. Bigby says that there was nearly $10 billion spent on outdoor alcohol ads across the nation last year. These kinds of ads may be a contributing factor to the nearly $775 million spent on underage hospitalizations resulting from alcohol consumption in 2008, according to The Wall Street Journal. The Mayo Clinic reports that nearly 40,000 youngsters were admitted to the hospital during the year for underage drinking-related complications.
Some officials believe that these numbers may actually be much higher. Officials say that not all hospital visits are recorded, including emergency room visits, etc. Included in some of these admissions are problems related to alcohol abuse, withdrawal, dependence, intoxication, alcohol-induced mood problems and related injuries. Some reports indicate that about 25 percent of all alcohol-related injuries resulting in a hospital visit are from car accidents.
Despite what the media are saying, our teens shouldn't be exposed to these types of advertisements. At the very least, these ads shouldn't be displayed where these young ones congregate, says Bigby.
For many of our young residents, MBTA trains, subways and buses are a vital part of their everyday life. Some even use these forms of transportation in place of a school bus. There's no reason these young riders should be bombarded with messages encouraging them to consume alcohol.
Thankfully, the MBTA isn't working alone. It is also working with agencies in Washington, D.C., Chicago, Philadelphia and San Francisco to get these alcohol-related ads away from young residents and drivers.
We are now asking parents to join these efforts too and to help teach our young ones about the dangers associated with consuming alcohol and with drinking and driving. It's a simple conversation that could potentially save their life.

Jeffrey Glassman Injury Lawyers, LLC is here offering assistance to those and the family of those who have been the victim of a drunk driving car accident in Massachusetts. If you or someone you love has been injured or killed in an alcohol-related car accident, call (617) 777-7777 for a free appointment to discuss your case.
Additional Resources:
The (Partial) Cost of Underage Drinking, by Katherine Hobson, The Wall Street Journal
More Blog Entries:
MADD Recognizes 2011 Efforts to Help Reduce Risks of Drunk Driving Car Accidents in Boston, Nation, Boston Drunk Driving Accident Lawyer Blog, January 20, 2012