A Dorchester driver that recently slammed his van, full of special-needs adults, into a garbage truck is now being accused of driving while under the influence of drugs. The Massachusetts drugged driving accident injured 12 of the special-needs passengers.
Authorities recently discovered his out-of-state driving history, including illegal possession of drugs, leaving the scene of an accident, driving in the wrong direction on a one-way street and speeding. Every single one of these incidents happened during the last 10 years in the state of New York, according to the Massachusetts Registry of Motor Vehicles.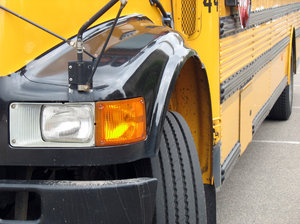 "I'm assuming that's the sort of thing people would check before you hire," said Rep. Kay Khan (D-Newton), House chairwoman of the state Legislature's Joint Committee on Children, Families and Persons with Disabilities.
Our Boston drunk driving accident attorneys believe it's negligent for an employer to hire a professional driver who has an abysmal driving record. When an employer fails to conduct background checks, or otherwise cuts corners, people are too often injured or killed in "accidents." These drivers are expected to safely navigate passengers to their appropriate destinations. If the proper background checks are not conducted before hire, passenger safety is compromised and the risks of being involved in a serious accident greatly increase.
The accident happened when the bus, belonging to Chestnut Hill-based AART, was heading north on Highland Street in Newton. The van ran into a Waste Management Services truck that was contracted by the city, according to the Boston Herald.
One of the passengers had to be extricated with the Jaws of Life. He and three others were taken to Beth Israel Deaconess Medical Center. The driver of the car and the nine other passengers were transported to Newton-Wellesley Hospital.
Now, the driver of that bus is being charged with driving under the influence of drugs and is being held on $15,000 bail, reports the Middlesex County District Attorney's Office.
In addition to being subjected to criminal and driving background checks, all drivers interested in working in the state of Massachusetts must have a valid state license from Massachusetts or from a contiguous state and three years of experience driving multi-passenger vehicles. They're also required by law to provide written references, undergo an annual Criminal Offender Record Information check and have an annually updated RMV report on file with their employer.
Jennifer Kritz, a spokeswoman for the Executive Office of Health and Human Services, says that employers are asked to use their best judgment regarding the hiring of a driver that shows a history of violations. At a minimum, those who are seeking employment as a driver that have a history of serious moving violations within the past 10 years should not be considered.

If you or a loved one has been involved in an accident with a drunk driver in Massachusetts, contact the drunk driving accident lawyers at Jeffrey Glassman Injury Lawyers for a free and confidential consultation to discuss your rights. Call 877-617-5333.
Additional Resources:
Van crash shocker: Charged driver has spotty record, by Marie Szaniszlo, Boston Herald
More Blog Entries:
Quincy Drunk Driving Car Accident Kills One and Injures Two, Boston Drunk Driving Accident Lawyer Blog, July 16, 2011
Woman Rear-Ends Officer in her Fifth Drunk Driving Accident in Massachusetts, Boston Drunk Driving Accident Lawyer Blog, July 14, 2011
Child Pedestrian Killed by Drunk Driver in Massachusetts, Boston Drunk Driving Accident Lawyer Blog, July 7, 2011