A 39-year-old MBTA driver was involved in a recent alcohol-related accident when she reportedly slammed into a pedestrian near the JFK T stop. According to 7News, the driver slammed into a 86-year-old Chinatown resident and just kept going. According to court documents, the driver came back to the scene of the accident and admitted to hitting the pedestrian.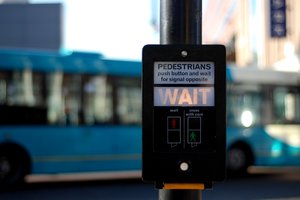 The driver was also charged with driving under the influence back in 2007 when she had her license revoked. It has since been reinstated. With the latest accident, she has been charged with negligent operation of a motor vehicle, leaving the scene of an accident causing property damage, leaving the scene of an accident causing personal injury, operating under the influence causing serious bodily injury and operating under the influence as a second offense. The driver was arraigned in Dorchester District Court. If she posts bail, she will have to remain alcohol-free and submit to random testing. A not-guilty plea was entered on her behalf, prosecutors said.
Our drunk driving injury attorneys understand that this woman has been a bus driver with the MBTA since 2003. Although she is currently on unpaid leave while the investigation is underway, it's alarming that these kinds of drivers are allowed to be behind the wheel of our public transportation services.

The bus driver involved in the recent accident allegedly failed a number of sobriety tests. She reportedly could not recite the alphabet — she couldn't even get passed the letter "F".
She has also been involved in surchargeable crashes in 2001, 2005 and in 2010 in addition to the Braintree accident, according to the RMV records.
A bus driver has the primary responsibility for ensuring the health, safety and welfare of the passengers of their bus, staff and volunteers during bus transportation. They're also to help keep other travelers safe along our Massachusetts roadways by ensure that their driving habits are safe and responsible.
Each and every day in the U.S. there are roughly 30 people who die in motor-vehicle accidents that involve an alcohol-impaired driver. This amounts to one death every 48 minutes. The annual cost of alcohol-related crashes totals more than $51 billion, according to the Centers for Disease Control and Prevention (CDC). Every 90 seconds, a person is injured in a drunk driving accident. On average, about a third of all Americans will be involved in a drunk driving crash in their lifetime. Among major crimes, driving under the influence has one of the highest arrest rates with more than 1.4 million DUI arrests in 2010.
In the U.S., roughly 900,000 people are arrested each year for DUI/DWI and a full third of those are repeat offenders.
We need to ensure that our public transportation system is doing a better job of screening employees.
If you or a loved one was involved in a drunk driving accident in Massachusetts, call Jeffrey Glassman Injury Lawyers for a free and confidential appointment — (617) 777-7777.
More Blog Entries:
DUI Accident Blamed for Death of Pedestrian in Dorchester, Boston Drunk Driving Accident Lawyer Blog, December 10, 2013
Habitual Drunk Driver Arrested In Lowell, Boston Drunk Driving Accident Lawyer Blog, December 1, 2013