Vince Young, former NFL quarterback and star on the University of Texas Longhorns football team, has just been sentenced to probation following a drunk driving conviction, according to a report from UPI.  Young is 33-years-old and has only been officially retired for a couple of years, but has not seen playing in quite some time.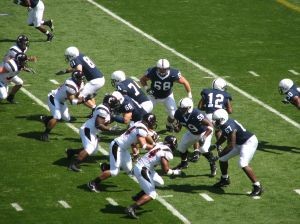 Prosecutors have said that Young was arrested with a blood alcohol concentration (BAC) of 0.246 grams of ethanol (drinking alcohol) per 100 milliliters of blood.  The legal limit in every state in America is 0.08.  The reason for this is because that was the limit at which research conducted over decades by the National Highway Traffic Safety Administration (NHTSA) shows that a person cannot safely perform the tasks necessary to drive a motor vehicle.However, it should be noted that, while 0.08 is the legal limit for what the law calls a per se violation of the drunk driving laws, a person can be intoxicated with a BAC of significantly below the legal limit of 0.08. This means that a person can be convicted of operating under the influence (OUI) of intoxicating liquor.  They can also be found liable in a civil car accident lawsuit following a drunk driving accident.
Additionally, as our Boston drunk driving accident lawyers can explain, even if a person is not convicted of an OUI in a district court in Massachusetts, they can still be found liable in connection with a drunk driving accident.  The reason for this is because there is a different standard of proof in civil and criminal cases.
In a criminal case, the government must prove a case beyond a reasonable doubt.  This is an extremely high standard, and is in fact the highest burden of proof in the American legal system. In a civil case, the plaintiff must prove his or her case by a preponderance of the evidence.  This means that he or she must prove his case that it is more likely than not that the defendant is liable of tort (civil wrong).
There are also different elements in criminal and civil cases.  In a Boston car accident lawsuit, the case is typically filed under a theory of negligence.  This means that it must be established that the defendant owed a duty of duty of care to the plaintiff, that the defendant breached that duty of care, and that the breach caused actual damages. Damages is essentially a term of the amount of money the negligent act allegedly caused the plaintiff to lose.  This can include medical bills, lost wages, pain and suffering and other types of special damages.
Anyone who drives a car in the Commonwealth has assumed a duty of care to anyone who could be foreseeably injured as a matter of law under RMV regulations. If a person is under the influence of alcohol, but below 0.08, this could still be used to prove negligence in a car accident case.
As for Young, he was sentenced to pay a fine of $300 and complete a number of community service hours during his 18 months of probation.
If you or someone you love has been injured a Boston drunk driving accident, call for a free and confidential appointment at (617) 777-7777.
Additional Resources:
Vince Young sentenced to probation for drunk driving, January 12, 2017, By the Sports Xchange, UPI
More Blog Entries:
Report: Boston Named as Having Worst Drivers in US – Many Drunk Driving Accidents, July 21, 2016, Boston Drunk Driving Accident Lawyer Blog