According to a recent news article from News 7 Boston, a man was just arrested in Everett for allegedly driving drunk while picking up his young child from school. It appears this was the second time he's been recently arrested for this type of offense.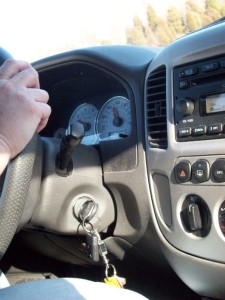 Authorities say the 52-year-old man was arrested when he tried to pick up his 10-year-old son from school while the man was "obviously intoxicated."  After being taken to the police station to be booked and processed, he was released on his personal promise to appear in court.  This is standard practice in Massachusetts following a drunk driving arrest in which there was not a serious accident.
Later that same day, he was again arrested for DUI. His second arrest constituted the ninth time he had been arrested for drunk driving in his lifetime, though it does not appear that he was convicted of the offenses charged in his many prior arrests for operating a motor vehicle under the influence (OUI) of intoxicating liquor or drugs.
Prosecutors have also stated that when the defendant arrived at his son's school under the influence of alcohol, he was acting in a belligerent manner and swearing at school officials. At that point, the school principal, upon being concerned for the safety of the man's child who was supposed to get into a car with his father, called 911.
When local police arrived at the child's school, officers alleged that the man was yelling and cursing at them and clearly smelled of a strong odor of alcoholic beverages.   The police then spoke with the defendant's child, who allegedly told police that sometimes his father "gets like this."  After going to jail and later being released, the man decided to drive again while he was allegedly still under the influence of alcohol.  This is when the defendant's other son, who is an adult, called police and told them that his father was once again driving drunk.  The police were able to locate the man and arrest him for the second time in less than 24 hours.
It is important to note that, while he has been charged with some very serious offenses, given the fact he allegedly attempted to endanger a child, and the prosecutors say he has at least eight other OUI convictions on his record, he has not been convicted of any offenses in connection with these two recent offenses.  Therefore, the defendant is presumed innocent unless and until he is proven guilty in a court of law by judge or jury beyond a reasonable doubt.
There is no question alcohol abuse can have a devastating effect on the lives of many people.  However, as our Boston drunk driving accident lawyers have seen in far too many cases, some of the lives affected are victims who did not choose to drink to the point of intoxication and get behind the wheel.  The fact that this conduct is so dangerous is the reason that drunk driving can be often be considered a per se breach of one's duty of care in a car accident lawsuit.
If you or someone you love has been injured a Boston drunk driving accident, call for a free and confidential appointment at (617) 777-7777.
Additional Resources:
Everett man arrested twice for picking up child drunk, drunk driving, November 30, 2016, By Kelli O'Hara, 7 News Boston
More Blog Entries:
Report: Drunk Driving Crash at Daytona International Speedway, April 9, 2016, Boston DUI Accident Lawyer Blog