According to a recent news article from the Boston Globe, Chelsea police have evidence from a surveillance camera operated by the city that allegedly shows a drunk driver going on what they call a "wild ride" right through downtown. Chelsea is the 1.8 square mile incorporated city located just across the Mystic River from Boston.  While Chelsea does not have a large population, there are many drunk driving incidents, including serious or fatal drunk driving accidents that occur there each year.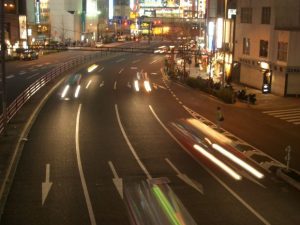 In this recent incident, police say the 56-year-old defendant was driving his Chrysler PT through the heart of the city in a manner than had more than two dozen people fleeing for safety as they witnessed the car as it allegedly went down the steps of the city's Civil War memorial and then drove right onto the lawn in front of Chelsea City Hall.At this point, police tried to stop the suspect, but he would allegedly not stop until his vehicle became completely disabled in the center of the city.  When police finally secured the suspect, they asked him to exit the vehicle and take a series of standardized field sobriety tests.  Once at the Chelsea police station, they administered a breath alcohol test that allegedly returned a result of more than .24 grams of alcohol (ethanol) per hundred milliliters of blood.
As our Boston drunk driving accident lawyers can explain, the legal limit in Massachusetts is 0.08.  This means that, if the test was accurate, this driver had a blood alcohol concentration (BAC) of more than three times the legal limit.  It should be noted that the legal limit that was chosen in Massachusetts, and the rest of the nation as it is tied to federal highway spending, was chosen because at this level, it is scientifically verifiable that a driver cannot safely operate a motor vehicle in the clear majority of cases.  This means that a person with a .24 BAC or higher would not only have difficulty driving, but would likely have difficulty walking or even breathing, according to decades of research performed and complied by the National Highway Traffic Safety Association (NHTSA).
In this case, police have said driver was charged with operating a motor vehicle under the influence of alcohol and or drugs (OUI), reckless operation of a motor vehicle, and cited for various other civil moving violations.  Police further allege that during this so-called wild ride, defendant crashed into a barrel and a park bench on which three pedestrians had been sitting before they jumped to safety.  This was all captured on video, according to police.
It should be noted that, even though defendant has been charged with various crimes related to his drunk driving accident in Chelsea, these are merely allegations.  Based upon the rights in our Constitution and Massachusetts Declaration of Rights, he is presumed innocent unless an until he is found guilty in a court of law by a judge or jury, as this is the burden of proof the Commonwealth must establish to secure a conviction.
If proven, these actions would be incredibly risky behavior that endangers the life and well-being of innocents with whom they share the road.
If you or someone you love has been injured a Boston drunk driving accident, call for a free and confidential appointment at (617) 777-7777.
Additional Resources:
'Wild ride' by suspected drunk driver captured on video in Chelsea, April 21, 2017, By John R. Ellement, Boston Globe
More Blog Entries:
Massachusetts Drugged Driving a Serious Problem, Police Say, March 28, 2017, DUI Injury Lawyer Blog