According to a recent news feature from the Boston Globe, a Boston University student has just been arraigned in criminal court following an alleged fatal drunk driving car accident.  Prosecutors have charged the 19-year-old defendant with motor vehicle homicide by driving under the influence of intoxicating liquor or drugs, operating under the influence (OUI) of intoxicating liquor and other related charges.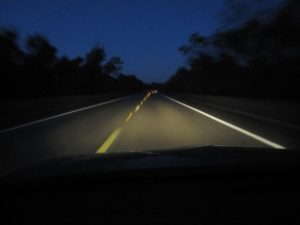 Authorities have said that defendant was operating his vehicle when the car drove off the road and crashed into a group of trees. The 18-year-old passenger was killed as result of the fatal drunk driving car accident, according to law enforcement officers.
The drunk driving accident occurred in a town north of Boston at around three in the morning.  When police responded to the scene of the accident, they found the defendant standing alongside the vehicle, which had crashed into a stand of trees. Witnesses say he saw the officers arrive and was pointing to one of the people who had been in his vehicle.  This person was now lying in the road.  Police called for an ambulance, and when EMTs arrived, they did what they could to stabilize the victim before transporting him to a local level-one trauma center for further treatment.  This victim was believed to have non life-threatening injuries and survived the harrowing ordeal.
Unfortunately, when officers went deeper into the woods and found the crashed vehicle, they found another passenger.  He had been seated in rear passenger seat, but when officers arrived at the car, they found his body hanging outside the passenger window and knew there was nothing they could do for him.  When EMTs made their way to the car, they found him nonresponsive and called for an examiner with the Office of the State Medical Examiner (OCME), and he was pronounced dead on the scene.
Meanwhile, officer became suspicious that the suspect was intoxicated and conducted a series of standardized field sobriety tests and asked him questions to confirm their suspicions enough to justify placing him under arrest.  When they asked where he was coming from and if he had been drinking, he allegedly told officers they had been attending a party at a local university, and they were drinking.  He also allegedly said he was speeding just prior to the crash to show off to his friends.  He also told police that he was captain of the school basketball and football teams in High School.
While police were booking him on charges related to this fatal drunk driving accident, they allegedly found a fake ID on his person.  He then allegedly told police officers in a joking manner that the fake ID had never let him down in the past.   It should be noted that this student had never been convicted of any crime in the past and, despite these serious allegations, he is presumed innocent unless and until he is found guilty in a court of law beyond a reasonable doubt by a judge or jury.
If you or someone you love has been injured a Boston drunk driving accident, call for a free and confidential appointment at (617) 777-7777.
Additional Resources:
Man is arraigned in Lunenburg crash that killed friend, August 29, 2016 , By George Barnes, Boston Globe
More Blog Entries:
Bruins Star Ray Bourque Arrested for Drunk Driving After Car Accident, July 5, 2016, Boston Drunk Driving Injury Lawyer Blog