A veteran boater recently entered a guilty plea after a fatal boating accident. The driver is accused of being intoxicated during a powerboat accident near Hull that killed one of his passengers, according to the Boston Globe. Two passengers were thrown from the vessel during the accident. The boater was reported traveling about 17 knots, or 19 miles per hour, when the vessel slammed into a sailboat.
The 39-year-old boat driver from Winthrop is facing charges of negligent homicide and operating a boat while drunk. He was sent to jail has a bail of $1,500 from the Hingham District Court.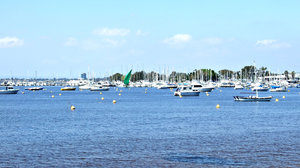 Our Boston boating accident attorneys understand that drivers of all sorts, including car drivers, boaters, motorcyclists, bicyclists and all-terrain vehicle operators, are expected to drive responsibly and while sober. Jumping in the driver's seat of any kind of vehicle while intoxicated is an irresponsible move that can potentially lead to serious legal consequences and even death.
There were nine passengers on the 25-foot powerboat that ventured out of the Winthrop Yacht Club on the day of the accident. The woman passenger that died in the accident was a 55-year-old resident of Winthrop. She passed away at Brigham and Women's Hospital in Boston from brain injuries that were sustained during the collision.
Officers report that the driver's breath smelled of alcohol, his speech was slurred and his eyes were glassy when they responded to the accident. He allowed medical personnel to draw his blood to test for alcohol at the South Shore Hospital. The official results have yet to be received.
The boater is scheduled to appear in court on the 12th of October.
Those who were interviewed about the accident reported that the driver had only had a few alcoholic drinks throughout the day. One witness reported that they had only seen the driver drink soda. When officers investigated the boat, they found an empty box of wine, several wine glasses and a slew of empty beer cans. The boat has been impounded by the Massachusetts Environmental Police.
According to the U.S. Coast Guard:
-There were more than 4,600 boating accidents in 2010.
-More than 670 people were killed in these accidents.
-More than 3,150 people were injured in these accidents.
-Boating accidents resulted in more than $35 million in property damage.
-The fatality rate for boaters was about 5.4 per 100,000 registered recreational vessels.
-About 75 percent of those who were killed in boating accidents drowned. About 88 percent of these victims were reportedly not wearing a life jacket at the time of the accident.
-About 80 percent of those boaters who drowned in 2010 were occupants of a vessel that was no longer than 21 feet.

If you or a loved one has experienced a boating accident in the Boston area, contact Massachusetts Boating Accident Attorney Jeffrey S. Glassman for a free and confidential appointment to discuss your rights. Call (617) 777-7777.
Additional Resources:
Man pleads not guilty to fatal boat crash, by Mark Arsenaul, Boston Globe
More Blog Entries:
Drunken boating targeted in effort to reduce Massachusetts boating accidents, Boston Personal Injury Attorney Blog, June 3, 2010
Two Massachusetts residents killed in boating accident, Boston Personal Injury Attorney Blog, May 26, 2010