According to a recent news feature from the Detroit Free Press, Marcus Glenn, a well-known artist from Detroit, was just arrested after what was alleged to be a fatal drunk driving car accident.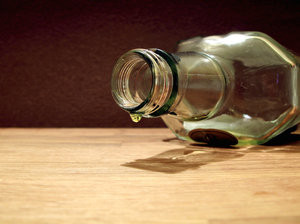 Authorities say defendant was driving his vehicle with his wife seated in the passenger seat when he somehow lost control of the vehicle and crashed into a guardrail at a high rate of speed.  When first responders arrived at the scene, they found defendant's wife in serious condition, as the car had hit the guardrail on the passenger side of the vehicle where she was seated. 
Paramedics worked to stabilize defendant's wife, but they were unable to do much to improve her condition.  They transported her to a local level-one trauma center, but, unfortunately, she was pronounced dead soon after arrival at the hospital.
Defendant has become an internationally well-known artist with sales in more than 65 countries. He has thousands of clients who regularly purchase work, and he has been selected to participate in a very prestigious art show.  His art commonly features bright colors or paper and fabric made into elaborate collages.
Prosecutors have charged defendant with drunk driving after the crash and have said they may indict him on charges of drunk driving causing death. It should be noted that defendant has not been convicted of any crime in connection with his recent arrest and is presumed innocent unless and until he is proven guilty in a court of law by judge or jury.
This case brings up an interesting situation that happens far more often than most people realize.  As our Boston drunk driving accident attorneys have seen in many cases, while a lot of people realize it is not a good idea for them to drive drunk, they have no issues with being a passenger of a car where the driver is drunk.   This brings up the question of whether or not you can sue the driver of the car when you are the passenger.
Before we answer that question, you are probably wondering why you would sue your friend.  The answer is that his or her insurance company may not pay to compensate you for your losses if you do not sue them or, at the very least, send a demand letter.  Unless your friend has the money and is willing to pay for all of your medical bills and pain and suffering, that might be your only option.
As for the question of whether you can sue, the answer is generally yes.  However, there may be an issue as to why you were willing to get in the car of an obviously drunk driver.  This does not mean that you will not be able to recover for your medical bills, special damages, pain and suffering, and other types of loss, but your comparative negligence, as it is often called in the law in Massachusetts, may affect both causation and the value of your case.
If you or someone you love has been injured in a Boston drunk driving accident, call for a free and confidential appointment at (617) 777-7777.
Additional Resources:
Artist Marcus Glenn Arrested Following Alleged Fatal Drunk Driving Car Accident, February 25, 2016, Detroit Free Press, By Daniel Bethencourt
More Blog Entries:
Report: Massachusetts is Mid-Level on Drunk Driving Prevention, June 19, 2015, Boston Drunk Driving Injury Lawyer Blog