Actor Dalton Gray, best known for his role as Master Mike on American Horror Story, suffered serious personal injury when an alleged drunk driver crashed into his car in Texas, according to Inquisitir. Dalton is 17-years-old.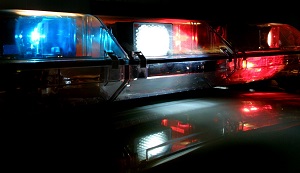 Authorities say Gray was riding in a vehicle along with some of his friends when, without warning, another vehicle crashed into the side of their vehicle. This type of crash is typically referred to as being t-boned.
Witnesses say Gray suffered a fractured hip, pelvis, and femur, lacerations and bruises on his face, and substantial eye trauma. It has been reported doctors needed to reconstruct a large portion of Gray's face and extract shards of glass from one of his eyes. He is currently experiencing serious vision problems in that eye, but ophthalmologists believe he will make a complete recovery with respect to his eyesight.

Dalton has reached out to his supportive fans via Twitter, posted pictures of himself during his recovery process, and thanked everyone for their caring remarks. He even posted a close-up photograph of his injured face and joked, "this is what happened to my face. If you ask me… It's an improvement. " While it is good to see him in such good spirits, he still has a long way to go in what is expected to be a lengthy recovery process, and it will not be easy.
Our Boston drunk driving accident lawyers express our condolences for the pain and suffering he has endured, and wish him the best of luck in his recovery. He is likely to need a significant amount of physical therapy to regain his mobility, and it will require a lot of patience and hard work on his part.
As for the alleged drunk driver, authorities say she has been arrested for operating a motor vehicle under the influence of alcohol and may face other charges. It is important to note, she has not been convicted of any crime in connection with this incident and is presumed innocent unless and until prosecutors prove her guilty beyond a reasonable doubt. She was, however, ordered to be held without bond as of this time, but that is based upon a probable cause standard, which is much lower than beyond a reasonable doubt.
For many victims of drunk driving accidents in Boston and across the United States, one of the most difficult aspects of recovering from these types of accidents goes beyond pain and suffering. While there is no doubt a lot of what happened is physically painful, and rehabilitation will prove additionally painful, one of the biggest problems many victims and their families face is financial.
Unless you have private disability insurance, and most people do not, you will be without an income for much of the time you are recovering from a drunk driving car crash. For people living paycheck-to-paycheck, and most people are, it can be devastating to miss months or even a single week of work. For this reason, compensation for lost wages is often one of the most crucial aspects of any civil car accident lawsuit. You should make sure to discuss this issue with your attorney.
If you or a loved one was involved in a drunk driving accident in Massachusetts, call Jeffrey Glassman Injury Lawyers for a free and confidential appointment — (617) 777-7777.
Additional Resources:
'American Horror Story' Actor, Dalton Gray, Badly Injured In Drunk Driving Accident , Apr. 24, 2015, Inqisitir
More Blog Entries Residents Fear Drunk Driving with New Milford Casino, Boston Drunk Driving Accident Lawyer Blog, November 23, 2013