Drunk driving typically affects more than the person behind the wheel. In one recent case, though, the person behind the wheel was just as much a victim as anyone else.
According to a recent news article from the Greenfield Patch, a 37-year-old woman has been arrested after she was allegedly too drunk to drive, so she made her 8-year-old son drive instead.  Authorities have said the arrest occurred around 2 p.m.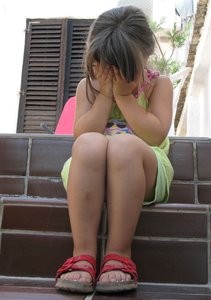 A deputy sheriff reported seeing a car entering the on-ramp of a major local highway with a small child sitting on a woman's lap.  This was apparently sufficient probable cause to conduct a traffic stop.  The deputy allegedly observed the young boy steering the car.When he pulled over the vehicle and approached the driver's side window, the child was crying and said he didn't want to go to jail.  The driver was apparently also concerned about going to jail and refused to cooperate with law enforcement officers after they made her get out of the vehicle.
She was ultimately charged with various criminal offenses including drunk driving (3rd offense) with a child under the age of 16.  In addition to the drunk driving charge, she was charged with operating a motor vehicle after revocation or suspension of driving privileges, an ignition interlock violation, and there will likely be a child endangerment charge of some type that may be a felony.
First, it should be noted that these are merely allegations, and she is presumed innocent unless and until she is found guilty beyond a reasonable doubt by a judge or jury in a court of law.
The second thing that our Boston drunk driving accident lawyers can explain is, while the allegations made in this case do not happen all that often, there are parts of this situation that do present issues found in more typical accident cases.
One of these issues deals with operation.  There are many cases in which a person is too drunk to drive or continue driving and will actually stop his or her vehicle in a dangerous place, including the travel lane of a road.  This can result in a serious accident, and the operator of the vehicle will likely try to argue they were not driving at the time of the accident.  While this may be true, courts will often decide that operation of a motor vehicle means something other than simply driving.  If a person moves the car to a place and was in physical control of the car (in the car with keys) that is often enough to constitute operation.
Another thing to keep in mind is, while we talk about a drunk driving action, we are dealing with a negligence case.  If a driver puts his or her car in a position that causes a serious car accident, it will not even be necessary in many cases to prove operation, since we are not dealing with a criminal drunk driving case in a civil Boston car accident lawsuit.  There may be a criminal case, as well, but the two proceedings are not mutually exclusive.  That being said, it will often be helpful if defendant is found guilty of drunk driving after trial or by taking a plea that requires an admission of guilt.
If you or someone you love has been injured a Boston drunk driving accident, call for a free and confidential appointment at (617) 777-7777.
Additional Resources:
Drunk Woman Arrested for Allowing 8-Year-Old Son to Drive on Highway, May 6, 2017, By Scott Anderson, Greenfield Patch
More Blog Entries:
Former NFL Quarterback Vince Young Given Probation for Drunk Driving, Feb. 7, 2017, Boston Drunk Driving Accident Lawyer Blog