According to a recent news feature from Fox News, a man was celebrating his 34th birthday with a group of friends at a local hotel where the group was having a party.  San Diego Police say that the party-goers had been drinking that evening.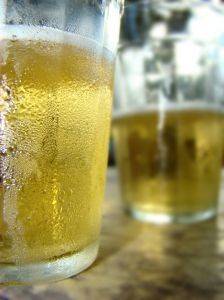 At some point in the night, a female friend of the man decided she wanted to leave the party and would be driving her car home.  For reasons that are not made clear in the police account, the man decided he did not want her to leave the party.  It is not known if he was concerned about her possibly driving her car while drunk or whether he wanted her to stay for other reasons.
Regardless, the man deiced to lie down in the street in front of her car as it was moving.  She was already driving her BMW at the time and did not stop or otherwise avoid hitting the man.  She allegedly ran him over and did not remain on the scene. At this point, first responders were called to the scene by witnesses to what is being investigated as a possible fatal drunk driving incident.
When first responders arrived at the scene, they determined he had been severely injured when he was run over, as his chest had been crushed.  They attempted to stabilize the victim so he could be transported to a local level-one trauma center. When he arrived at the hospital, trauma surgeons did everything they could, but his injuries proved too severe, and he was soon pronounced dead. It should be noted that the police have not made any arrests in connection with this fatal car accident and have not yet said if they intend to file formal charges against the driver of the car.
While every case is different, and you should speak with an experienced Boston drunk driving accident lawyer about the facts of your actual situation, there are certain things you should know about personal injury cases, such as a car accident cases, that result in the death of a plaintiff. In the vast majority of these cases, the claim is filed as a wrongful death action under a theory of negligence.  The wrongful death component will affect the amount of damages to be paid, if any, but is not in and of itself a type of tortious conduct. The actual underlying tort will be negligence, just as in the case of most other car accident lawsuits.
Proving negligence in Massachusetts involves owing a duty of care to the plaintiff and failing to act as a reasonable and prudent person so as to avoid foreseeable injury to foreseeable persons and property.  This failure to act as a reasonable and prudent person is considered a breach of one's duty of care. With respect to the duty being owed, anyone who drives in the Commonwealth has assumed a duty of car by statute.  Driving drunk is a criminal action, as well as a basis for proving someone has acted negligently.
If you or someone you love has been injured a Boston drunk driving accident, call for a free and confidential appointment at (617) 777-7777.
Additional Resources:
San Diego man lies next to car so friend won't leave party, is killed, August 22, 2016, Fox News
More Blog Entries:
Bruins Star Ray Bourque Arrested for Drunk Driving After Car Accident, July 5, 2016, Boston Drunk Driving Injury Lawyer Blog