Driving drunk is never a good idea.  It is negligent conduct that puts many lives at risk including the drunk driver, passengers in his or her vehicle, pedestrians, bicyclists, and occupants in other vehicles.  According to the law as we can see in Chapter 231 of the Massachusetts General Laws (M.G.L), this involves failing to act as a reasonable and prudent driver in such a way that will avoid a preventable car accident.  Negligence in Boston drunk driving accidents can also be proved by showing the defendant violated a traffic or criminal statute enacted to prevent the type of conduct which caused the accident.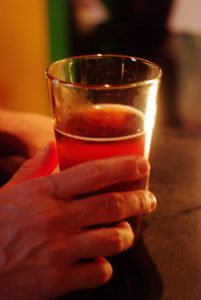 In the case of an accident caused by a drunk driver, this conduct is obviously against the law as the Operating Under the Influence of Intoxicating Liquor or Drugs (OUI) statute can be found in M.G.L. Chapter 90, Section 24. However, beyond the law itself, driving drunk is negligent behavior because it involves making bad choices from the moment a defendant chooses to get behind the wheel while intoxicated and then throughout the intoxicated ride and this can lead to a serious or even fatal Boston drunk driving accident. Drunk Drivers Lack the Capacity to Use Good Judgement Due to Intoxication
At the end of the day, we are talking about bad conduct that leads to the personal injury or death of another.  A recent article from ABC Action News, shows just how questionable alcohol can render one's ability to make sound judgments and how it can lead to negligent conduct.  This article is one of the drunk driving news reports we see from time to time to show how strange or "funny" a drunk driver's behavior can sometimes be resulting in photos of people being arrested in Halloween customers, or in this case, calling 911 on themselves. The police found it so funny they said they were "LOTO," which is apparently their internet-based shorthand for laughing our tasers off.
While there is certainly some element of humor in stories like these, as our Boston drunk driving accident lawyers can explain, for every funny tale of a drunk driving reported in the news media, there are thousands of cases in which one or more people were seriously injured or killed as a result of the poor decision to get behind the wheel while drunk.
In this case, a defendant who allegedly has a history of drunk driving offenses, called 911 and told the emergency dispatcher that he was drunk and needed to be stopped by the police. When he was prompted for a location of the emergency, he allegedly said that he was too intoxicated to know where he was at when driving around. This understandably caused some confusion on behalf of the emergency dispatcher who asked for further clarification on what the caller was trying to say, and what type of emergency it was.   Once the dispatcher confirmed the caller was the one who was allegedly engaged in drunk driving, the driver then said he was already at the police station.  He was told wait there as officers were coming to meet him.
He was not actually at the station, but parked in the travel lanes adjacent to the police station, when officers quickly met him at the scene of the alleged drunk driving offfense. Defendant also allegedly admitted to drinking, not sleeping much, and taking methamphetamine orally even though it is normally inhaled or injected.  Even though this defendant has been charged with DUI and cited for various moving violations, he is presumed innocent unless and until he is found guilty beyond a reasonable doubt by a judge or jury in a criminal court.
Other Possible Defendants in Drunk Driving Accident Lawsuits
When a suspected drunk driver causes an accident, the defendant will typically be arrested and charged with various criminal offenses and cited for moving violations.  This is not however, the only possible source of recovery in all drunk driving cases.  When we say other sources of recovery, we are essentially talking about other possible defendants that can be named in a civil drunk driving negligence lawsuit filed in the Greater Boston area.
This may be necessary if the defendant caused more personal injury in terms of dollars than his or her insurance policy will cover.  If the defendant had a car registered in Massachusetts, the law requires coverage of at-least $20,000 in personal injury per person and $40,000 total per accident.  While it is a good idea to purchase far more than the minimum if you can afford it, it is generally not required. There are a couple of things to keep in mind such as a car can legally be registered in another state, which has a lower monetary limit, and it is perfectly legal to drive such a vehicle in our state, and that some drivers do not have any insurance.
Insurance For Bodily Injured Caused by an Uninsured Auto in Boston
When you are hit by an uninsured auto, or underinsured auto, you can file a claim with your own car insurance company because the law in Massachusetts requires that your insurance company sell you insurance in the amount of at-least the same rates as the minimum insurance rates required for bodily injury to others, and that amount is listed above.  If you have more than the mandatory minimum level of insurance coverage, you likely have more uninsured motorist coverage as well.
This can be complicated because your insurance company will treat you just like anyone else making a claim, who is not a customer, and this means you will have to name your own insurance company as a defendant.  This is something you can discuss with an experienced Boston drunk driving accident lawyer during a free initial consultation.  This does not mean, however, that every case involving uninsured motorist coverage will have to go trial since most cases will settle out-of-court, but it is in your best interest to speak with an attorney who is willing to take cases to court when necessary and will fight for the best possible outcome both the law and the facts of your situation will allow.
If you or someone you love has been injured a Boston drunk driving accident, call for a free and confidential appointment at (617) 777-7777.
Additional Resources:
Florida man calls 911 to report himself drunk driving, January 8, 2018, By Mary Stringini, ABC Action News
More Blog Entries:
Massachusetts Drugged Driving a Serious Problem, Police Say , March 28, 2017, DUI Injury Lawyer Blog