According to recent news article from KARE 11, a mother was just arrested for allegedly driving drunk while her 8-year-old daughter hung onto the car trying to get her mother to stop.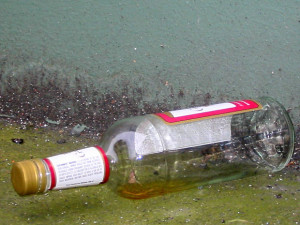 Authorities say witnesses saw this 46-year-old mother driving away from her home between 3 p.m. and 4 p.m. with her young daughter hanging on to the outside of the vehicle. One of the witnesses to the alleged incident is a 16-year-old boy who was outside at the time of incident playing with younger children from the neighborhood. He described what happened, as it appeared defendant's daughter was frantically tried to get her mother not to drive drunk, but the mother drove away anyway causing her daughter to fall off the car and be left by herself in the middle of the street.
Specifically, he said the girl was standing on the running board by the driver's window. She was grabbing the driver's door handle and hitting the car window while yelling at her mother to stop because she was drunk.
He then ran over to see if the child was hurt and noticed her knees were bleeding as she lay on the street crying. He said defendant drove away without stopping to check on the condition of her daughter. Her foot was also injured in the drunk driving accident.
This witness said he could not believe what he saw and was wondering what would have happened if they hit another car or got out on the highway while the girl was still holding. He decided someone had to call 911 so he ran home and got his mother to come outside and call the police.
As it turns out, witness's mother was a mandated reporter and had no choice but to notify authorities. As our Boston drunk driving accident lawyers can explain, under the law, certain people have a legal obligation to report suspected harm of children to the police. These people are often social workers, doctors, and teachers. This is different to the standard negligence rules in Commonwealth of Massachusetts, where a person is not obligated to call for help unless they caused the accident or had a contractual obligation to call for help. An example of a contractual obligation would be a babysitter or a lifeguard. These people must assist any victim in trouble, as it is part of their jobs.
For example, if an at-fault driver gets drunk and causes a car accident, he has a legal duty to stay and make sure the victims are okay. He cannot simply leave, or that would be a negligent omission. Additionally, in that example, he could also be charged with a hit-and-run.
In this case involving the young girl, the woman who called 911 said the victim did not want her to call, because it would get her mom in trouble, but she told her she had to call because her mother put her in danger.
When the police arrived, the girl said she was trying to get into the car, but her mother locked the doors and drove away. She also allegedly said her mother drank "half-a-bottle" before getting behind the wheel.
It is important to note defendant has not been convicted of any crime and is presumed innocent unless and until she is found guilty in a court of law.
If you have been injured in a Boston drunk driving accident, call for a free and confidential appointment at (617) 777-7777.
Additional Resources:
Mom accused of driving drunk with daughter clinging to car, July 31, 2015, KARE 11
More Blog Entries:
Boston Drivers Urged to Stay Sober on the Fourth of July, July 3, 2014, Boston Drunk Driving Accident Lawyer Blog