When we get on an MBTA bus or any other T vehicle, including green line trolleys, we assume the driver will be sober. It is not just passengers who are concerned about the dangers of a drunk mass transit driver, as MBTA policy and United States Department of Transportation (DOT) regulations require drivers to submit to pre-employment drug an alcohol testing, as well as random tests during the course of their employment.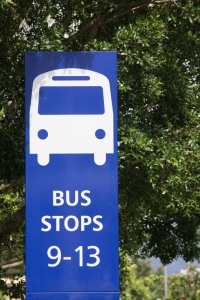 As our Boston drunk driving attorneys can explain, a random test is truly random and all names of driving employees are stored in a database, and can be randomly selected for a driver to submit to drug and alcohol testing. Once a name is pulled, it is not removed from the list of candidates for any period of time at all. This means that same driver could be selected several times in a row, so a driver is never safe to drink or use drugs. A drug test can be given at any time, even a driver's day off, and an alcohol test can only be given within a certain number of hours before a shift, and during a shift, since it is legal to drink when not driving. There is also a virtually zero tolerance policy for commercial drunk driving, so we are not dealing with a standard of 0.08 grams per hundred milliliters of blood.
According to a recent news article from WCVB, a T bus driver was on her way to the bus garage when authorities pulled her over on suspicion of drunk driving. Prosecutors say while she was on her way to work, her blood alcohol content was twice the legal limit of 0.08 grams of ethanol (drinking alcohol) per hundred milliliters of blood.
Authorities also alleged she was given field sobriety tests including being asked to recite the alphabet. It is alleged when she attempted to do so she answered, "ABCDZNXNLWONG," as stated in the police report. However, it should be noted, reciting the alphabet is not a standardized field sobriety test approved by National Highway Traffic Safety Administration (NHTSA) and thus is not admissible in a criminal trial, also defendant has not been convicted of any crime in connection with her arrest as these are merely allegations.
Her defense attorney claims the prosecutors are incorrect, as she was on her way home from work, and not on her way to work at the time of her arrest. However, it would still be illegal to drive drunk on her way home, and it would mean she was not about get behind of a 30,000 pound bus loaded with as many as 80 passengers who could be seriously injured or killed in traffic accident.
If you have been involved in an accident involving an MBTA vehicle, whether there were allegations of drunk driving or not, you should speak with an attorney who as experienced in accident cases involving MBTA as a defendant as these case often involve litigation more complex than accident cases in which at-fault driver was in his or her personal vehicle.
If you have been injured in a Boston drunk driving accident, call for a free and confidential appointment at (617) 777-7777.
Additional Resources:
MBTA bus driver on way to work arrested for OUI, police say, , April 12, 2015, News 5 Boston WCVB More Blog Entries:
Boston Drunk Drivers Not Threatened by Officers, June 12, 2013, Boston Drunk Driving Accident Lawyer Blog