In Salem, Massachusetts, jurors are trying to decide the fate of a Massachusetts State Police (MSP) trooper who has been charged and tried for crashing his motor vehicle while drunk resulting in the death of his passenger.  He was driving a vintage Chevrolet Corvette according to the Eagle Tribune.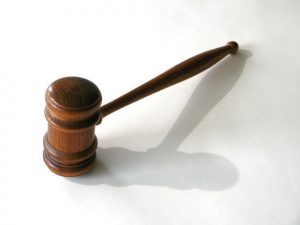 The jury has so far been unable to reach a verdict and the deliberations will continue following the weekend recess. As for the alleged facts of this case, defendant, who had been with MSP for 14 years, was driving his 1965 Corvette when he crashed.  The passenger in his vehicle was a 55-year-old firefighter who was killed in the deadly drunk driving crash that has been alleged.
His passenger suffered what is often referred to as an internal decapitation.  This is a serious medical condition, which is often fatal, though not always.  It involves a partial or complete severing of the victim's spinal cord from the base of his or her skull with the skin on the neck remaining intact.  As the name implies, it means that a victim suffered the same medical result as decapitation with the skin still attached.  In this case, the victim suffered a partial internal decapitation as well as other fractures.
According to prosecutors, the defendant and the victim were with a group of other people at a backyard campfire and they were passing around bottles of alcohol and becoming heavily intoxicated.  They were also both alleged to have been drinking beer in addition to the whiskey. Following the crash, the defendant was charged with assault and battery with a dangerous weapon (ABDW).  In this case, the dangerous weapon was his car.  As our Boston drunk driving accident lawyers have seen in far too many cases, a car can certainly be a dangerous weapon when it is being operated by an intoxicated driver.
The trooper was also charged with carrying a firearm while intoxicated and faces a total up to 10 years in a Massachusetts Correctional Institution (MCI) if convicted.  However, it is important to understand that he has not been convicted and is presumed innocent unless this jury, or another should there be a mistrial, finds him guilty beyond a reasonable doubt.  He did testify in his own defense, saying that while he had consumed alcohol earlier in the day, he was not intoxicated at the time of the deadly crash.
One of reasons a jury might be having difficultly with a verdict in case where the victim is a passenger is that, according to typical fact patterns, the victim was also intoxicated and chose to get in a car with the allegedly intoxicated driver.  However, in a car accident lawsuit, it is the driver who owes a duty of car to his or her passengers and to say that he or she is not able to safely drive the vehicle.  For this reason, there have been many verdicts finding a driver was liable for the injuries suffered by a passenger.
If you or someone you love has been injured a Boston drunk driving accident, call for a free and confidential appointment at (617) 777-7777.
Additional Resources:
Jury is still out in trooper's drunken driving trial, November 11, 2016, By Jill Harmacinski,  Eagle-Tribune
More Blog Entries:
Bruins Star Ray Bourque Arrested for Drunk Driving After Car Accident, July 5, 2016, Boston Drunk Driving Injury Lawyer Blog