Unfortunately, many drunk driving accidents in Boston also involve a hit-and-run driver.  The reason for this is because some of these drunk drivers realize they will likely be arrested for drunk driving in addition to other charges related to the accident.  They either are not really thinking at all, or are thinking that even if they get caught later, the police will not be able to prove the driver was under the influence of alcohol or drugs at the time of the accident.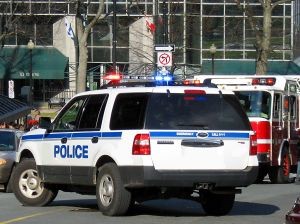 According to a recent news feature from WMUR, the Massachusetts State Police (MSP) are saying that a pedestrian was killed in a Boston drunk driving accident, and the suspect allegedly fled the scene following the accident.  He has since been arrested and taken into police custody. Witnesses say a 46-year-old woman was in the crosswalk around 10:30 pm last Saturday when she was allegedly hit by a late model Dodge Charger.  The suspect is reported to have briefly stopped following the collision and then sped away from the scene of the accident.
The police immediately went looking for the suspect and used information obtained from witnesses and surveillance of the alleged fatal drunk driving accident in Boston and were able to determine that the suspect's vehicle was a rental car.  They were able to get the owner's contact information from the rental agency and RMV records and caught up with him in the overnight hours following the accident.
The 39-year-old defendant from Dorchester was charged with operating a motor vehicle under the influence of alcohol or drugs (OUI), leaving the scene of a collision (hit-and-run) and other charges and moving violations related to the accident.  While one may wonder why the police also cite someone for moving violations when there are already criminal charges filed, there a variety of reasons.  The primary reason, however, is that a prosecutor will often use the moving violation as probable cause to stop a vehicle, and that can affect the rest of the case, as any evidence obtained from a stop lacking sufficient probable cause might be suppressed as what is known as fruit of a poisonous tree.
While there is there is generally no question as to liability in a drunk driving accident case in which the alleged at-fault driver was drunk and the victim was not, this does not mean that your will lawyer will not have to fight for your rights to a full and appropriate financial recovery.   The reason for this is because the fight in these cases often comes down to damages.  Damages is the legal term that basically equates to how much money the plaintiff will get in financial compensation following a serious drunk driving car accident.   Damages can include pain and suffering, past medical bills related to the accident, future medical expenses, lost wages, and other types of special damages.
It should be noted that in this case, the defendant has merely been accused of a crime and not has been convicted. This means that he is innocent unless and until his is proven guilty in a court of law by a judge or jury.
If you or someone you love has been injured a Boston drunk driving accident, call for a free and confidential appointment at (617) 777-7777.
Additional Resources:
Pedestrian killed in Boston hit-and-run, driver accused of DUI, September 4, 2016, By News Staff, WMUR
More Blog Entries:
Report: Possible Tougher Drunk Driving Laws in Massachusetts, March 30, 2016, Boston Drunk Driving Accident Lawyer Blog