According to a recent news article from My Fox Boston, a 67-year-old driver from Norton, Massachusetts has been arrested and charged with motor vehicle homicide and operating a motor vehicle under the influence of intoxicating liquor or drugs (OUI) after allegedly making "intentional contact" with another vehicle.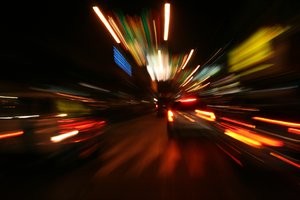 Authorities are saying the driver intentionally hit another car near an exit along Interstate 495. After this impact, the suspect allegedly hit victim's car again and fled the scene of the accident. When the second collision occurred, authorities say the vehicle rolled over on the exit ramp, killing the victim.
Victim is reported to be a 37-year-old man from Foxboro,  who left behind three children and his fiancé, as well as his parents and other family members. Victim's fiancé said the alleged at-fault driver took everything from her and described her late fiancé as a wonderful father and stepfather and her best friend. At the time of the fatal car accident, victim was traveling home from work with a friend who was a passenger in the car. His friend was also injured in the serious car accident. First responders treated his injuries as best they could on the scene of the car accident and transported him to a local level-one trauma center.
Unfortunately for the alleged hit-and-run driver, authorities were able to ascertain the owner of the vehicle involved in what they are calling a road rage accident and arrested him at his home later the same day. This was allegedly his second drunk driving offense, so he was already in the system.
Suspect has been charged with numerous criminal offenses, including OUI, motor vehicle homicide while OUI, assault and battery with a dangerous weapon (his car), leaving the scene of a deadly accident, possession of an open container in a motor vehicle, and other related charges. It should be noted that suspect has not been convicted of any crime in connection with this fatal accident, as these are merely allegations. He is presumed innocent unless and until he is proven guilty beyond a reasonable doubt by a judge or jury.
This case is good illustration of one of the problems with the phrase Boston drunk driving accident. While we use this term all the time, not all accidents are truly accidental. Most accidents we see that go to court or settle before trial are not accidents, but negligent acts that resulted in personal injury and property damage to another.   A negligent act is not an accident, because under the strictest legal definition, an accident is not anyone's fault, but a negligent act is.
This is especially true if road rage is alleged. Road rage is the intentional act of driving in an aggressive manner toward another driver. If that aggressive rage behavior results in a crash, nothing about that crash is an accident. That is an intentional act, and, in civil personal injury cases, in addition to standard negligence claims, there might also be valid claims for tortious assault and battery and even conversion for the damaged vehicle.
If you or someone you love has been injured in a Boston drunk driving accident, call for a free and confidential appointment at (617) 777-7777.
Additional Resources:
Man killed in Mansfield crash, driver charged with OUI, November 9, 2015, My Fox Boston, by News Staff
More Blog Entries: Report:
Massachusetts is Mid-Level on Drunk Driving Prevention, June 19, 2015, Boston Drunk Driving Injury Lawyer Blog