Recently, during an early-morning accident, an alleged drunk driver swerved her Cadillac into another lane and forced a Boston Globe delivery truck off of an elevated roadway on Interstate 93 and down to another road nearly 2 stories below.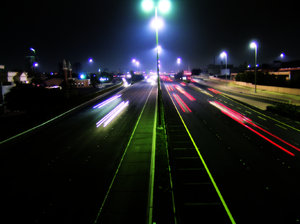 According to AutoBlog, the alleged intoxicated driver told authorities that she wasn't driving when the accident happened. She later admitted to being behind the wheel. According to the accident report, she had her driver's license suspended close to 10 times in the past. The Boston Globe driver was taken to the hospital and was last listed in fair condition.
Our Boston drunk driving accident lawyers understand that drunk driving car accidents are 100 percent preventable. Still, drivers throughout the nation continue to get behind the wheel and cause serious and fatal accidents — all while under the influence. According to 7NEWS, the intoxicated driver showed little remorse for what happened. She was allegedly very uncooperative and said she didn't care about the truck driver because he didn't die.
The entire area where the accident happened was shut down for several hours while response crews worked to clean the scene.
The driver has been charged with driving under the influence of alcohol, causing serious bodily injury and negligent operation of a motor vehicle. She has entered a not guilty plea and was held on a $10,000 cash bail and barred from driving or consuming alcohol if she's able to post that amount.
She refused a breath analysis test after Monday's accident, triggering a six-month suspension of her license, records show. According to the Transportation Department, that suspension will increase to three years because of her previous drunk driving arrests.
If you are convicted or a drunk driving or driving under the influence of drugs charge, your penalties largely depend on the number of previous offenses on your record.
Typically, for a first offense, you're looking at a driver's license suspension of at least a year, a fine of up to $5,000, possible jail time of up to 2.5 years, possible enrollment in an alcohol education program and a driver's license reinstatement fee that can wind up being at least $1,200.
If you kill someone while driving under the influence, you can face driver's license revocation for 15 years, a lifetime revocation of your driver's license, a minimum of 20 years before bars at up to a $25,000 fine. A judge is able to sentence more if they feel necessary.
It's oftentimes not the drunk drivers who are injured or killed in these kinds of accidents. It's the innocent and drivers who are injured by the poor choices that these irresponsible drivers make. If you think you spot a drunk driver on our roadways, do your part and report them to authorities. Your report could wind up saving someone's life.

If you or a loved one was involved in a drunk driving accident in Massachusetts, call Jeffrey Glassman Injury Lawyers for a free and confidential appointment — (617) 777-7777.

More Blog Entries:
Designated Driver Blamed for Drunk Driving Accident in Norfolk, Boston Drunk Driving Accident Lawyer Blog, August 12, 2013
A New Option to Test Your BAC Before Heading Home, Boston Drunk Driving Accident Lawyer Blog, August 10, 2013